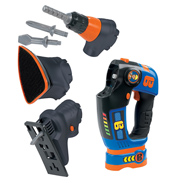 3 in 1 Multi Tool
£20.99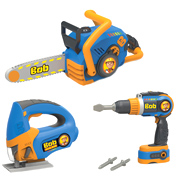 3 Tools Set
£31.50
Action Bob Figure Assorted
£10.65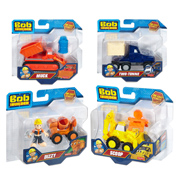 Die-Cast Vehicles - Fuel Up Friends
£7.90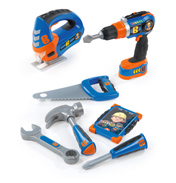 DIY Playset
£32.99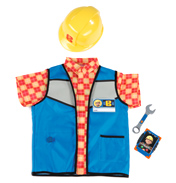 Dress Up Safety Set
£21.99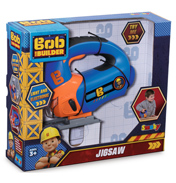 Jigsaw Tool
£14.75
Mash & Mould Vehicles Assorted
£13.70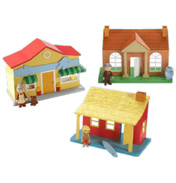 Playsets | Ready Steady Build
£14.99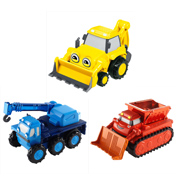 Pull Back Vehicles Assorted
£9.40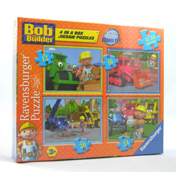 Puzzles | Bob the Builder 4 in a Box
£7.99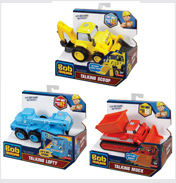 Talking Friends Assorted
£13.70
Voiced by the hilarious Neil Morrissey, Bob the Builder has become a national treasure. Created in 1998 by Keith Chapman, Bob has become a star of television and has also displayed his musical talent by releasing a couple of albums, Bob the Builder: The Album and Never Mind The Breeze Blocks.

When we first met Bob, he lived in Bobsville with his cat, Pilchard. He is the owner of a construction yard and is always on hand to help the residents with various projects and emergencies that might arise. He is often helped by Wendy, his business partner, who tries to keep Bob organised and gets frustrated when he forgets his mobile phone. Also available to help is Farmer Pickles but they are often hindered in their endeavours by the mischievous scarecrow, Spud.

Choose from our range of Furniture, Playsets, Games, Puzzles and Vehicles.
Bob works hard as a construction worker and always manages to get the job done. His helpful and positive attitude is just what is needed. But now Bob needs your help. Bob would like you to join him in one of his latest and biggest adventures - isn't that wicked? Can you guess what it is? Yes you guessed it! It's helping Bob in his new yard at Sunflower Valley. Bob could really do with an extra pair of hands now, as Wendy has to look after Bob's old yard back in Bobs Ville. You could probably help guide the machines in their tasks and keep them in line with your mobile phone. You will need to dress like Bob, complete with helmet, to keep you safe and build up your very own tool set so that you can even help your mum and dad at home.

When Scrambler and Wendy come to visit you might be able to join Scrambler on an adventure or give Muck and Spud more courageous support in the forest, I wonder if you would be any good at digging? Scoop could give you some brilliant tips!

Alternatively you can use the play sets and figures to create a miniature Bob the Builder world of your own.

The building world is host to a multitude of useful machinery and equipment to achieve successful completion of work efficiently. Bobsville and Sunflower Valley are no exception. Not only does Bob have all these machines to help him, they all have their own unique character traits so it's so easy to fall in love with them. In answer to Bob's frequently asked question, "Can we fix it?" the various machines always chorus, "Yes, we can!" with the exception of Lofty who answers with, "Er, yeah, I think so."

Both adults and children alike recognise these brightly coloured individuals. Bob's team of work vehicles is vast but his main ones are as follows; the unofficial leader is Scoop, a yellow backhoe loader, who is always ready, willing and able for any job. Muck is a red bulldozer who has a fear of the dark. He often acts before he thinks which usually leads to trouble. Dizzy, an orange cement mixer, is always giggling and is quite a chatterbox. Lofty, a blue crane, sometimes lacks confidence and is scared of heights. Roley, a green steamroller, loves to sing and spins his eyes when he gets excited. Whether Bob has a job to build or mend, his trusty team is always on hand to help, or sometimes hinder, and always manage a successful outcome.