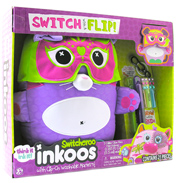 Switcheroo Inkoo
£9.99
Brought to you by the same manufacturer, RenArt, we have four different colouring innovations. Colouring has never been so much fun! Each of these colouring systems feature technology that has been patented putting them in a class of their own.

Get the right colour mix with Blendy Pens! You can combine two colours to create an amazing blended effect on your picture. Choose two of the different coloured Blendy Pens and plug them into each end of the fusion chamber provided. Twist and hold upright for 5 seconds and then colour away. With the Blasta Box you can turn your Blendy Pens into an airbrush. They will work really well with stencils to create fabulous blended airbrush designs. The Blendy Pen theme sets all offer stickers, cutouts and pens for you to create your own masterpiece of your favourite characters.
Add a new dimension to your writing or colouring with Colour Splitz. These are pens that allow you to write in two colours at the same time. Different effects are created depending on which angle you hold the pen. Hold at a 45-degree angle for a straight forward, one colour marker pen. At a 55-degree angle the colour splits into two and at 80-degrees this split is right down the middle.

Sprayza was launched in 2009 and is an incredibly simple way of creating an air brushed effect. Simply hold your stencil over your paper, choose your colour, slip it into the Sprayza nozzle and blow through the Sprayza tube. The same pens can then be used to outline and put the finishing touches to your artwork.

The Trio sets are three times more fun than an ordinary marker pen. A single stroke of the pen leaves behind a triple coloured line. Have you ever wanted to draw with three colours all at the same time? Using three separate pens and trying to hold them steady can be quite tricky. Trio is an easy way to achieve the same effect and with the Trio Magic kit you can create amazing colour changing effects.