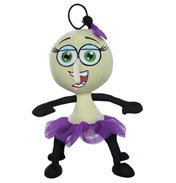 Bin Weevils 12" Collectable Soft Toy
£5.99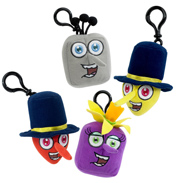 Bin Weevils Back Pack Clips
£4.23
SPECIAL OFFER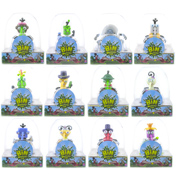 Bin Weevils Character Pack
£2.40
SPECIAL OFFER
Bin Weevils are ants that go on strange adventures. The shorts have been the basis of an online game that centre on the main characters, Tink and Clott. The game also includes facts about the world of Bin Weevils.

The online game known as 'Bin Weevils' has completely taken over the world by storm! Children, aged 6-12, can log on and play with games, explore different areas and interact with other users.

Each player get their own Bin Weevil character, and they must guide them around, completing games and puzzles to earn more virtual cash and to keep the little creature fit and strong. Once you've gained enough cash you can go shopping and buy things to decorate your home, such as furniture, gadgets and more!
Now this quirky online world has really come to life with the selection of Bin Weevil toys! Collect up some small figures one buy one, or even splash out for a four-character pack! Once you've built up a set why not give them a home like you can online, with the Deluxe Nest set.

Decorate your rucksack, school belongings or keys with a bag clip to show all you're friends your top game you love to play! Or, decorate your bedroom and have your own giant Bin Weevil soft toy, these ones stand at 10" tall, they're cuddly and even talk!

It has finally landed; the Bin Weevils have passed through the Internet cables and sprung into reality with this collection of toys.