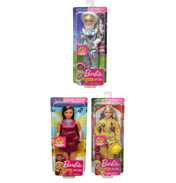 60th Anniversary Dolls Assorted
£14.99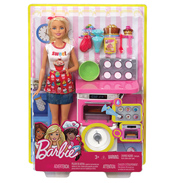 Baker Doll & Accessories
£23.99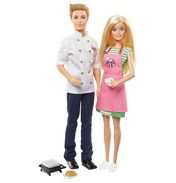 Barbie & Ken Doll 2 Pack
£27.99
Bistro Cart
£21.99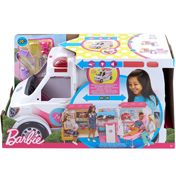 Care Clinic Vehicle Playset
£48.99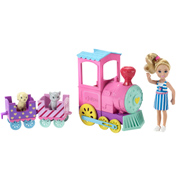 Club Chelsea Choo-Choo Puppy Train
£21.99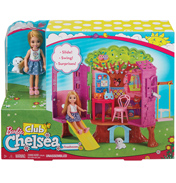 Club Chelsea Treehouse & Doll
£26.99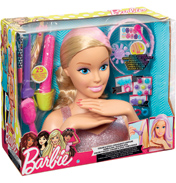 Colour & Style Deluxe Styling Head
£39.99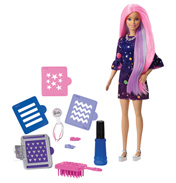 Colour Surprise Doll
£28.99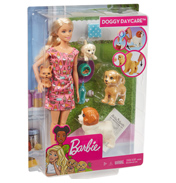 Doggy Daycare Doll & Pets
£28.99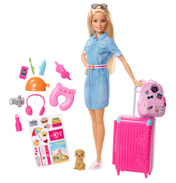 Doll and Travel Set with Puppy
£24.99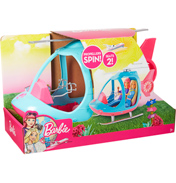 Dreamhouse Adventures Travel Helicopter
£28.99
Say Hello to Barbra Millicent Roberts otherwise known as Barbie. Barbie is for girls, what Action Man is for boys and she is probably one of the world's most recognisable dolls, having been created by American businesswoman Ruth Handler and manufactured by Mattel, she made her debut in 1959, so yes, can you believe it, she celebrated her 50th birthday in 2009 (don't we all wish we looked that good at 50!)

The current range of standard Barbie dolls and related accessories are made to an approximate scale of 1:6 and are 11 1/2 inches tall approximately. Although over the years Barbie's body, with only a few exceptions, has not changed regarding size and shape the same cannot be said for her face which has been continuously changing. If you take a look at some of the earlier dolls you will see her eyes were fixed in a sideways glance, these were changed in 1971 to look straight forward and in more recent times her face and hair are constantly changing to keep up with the varying modern day fashions and trends.

Over the years Barbie has always kept fashionably up to date with her outfits and accessories, a black and white zebra striped swimsuit was her very first item of clothing but goodness knows how many pieces would be in her wardrobe were you too count them all, from back then, to the present day! A true fashionista has too alter their look regularly and this is now possible with the swapping styles range, what could be easier than to change your hair and makeup at the push of a button.
Nearly all little girls love to dress up and role play, the most girlie probably being a princess or fairy or the ultimate bride in her wedding dress and now so can Barbie with the fairy secret range taking her from movie star to fairy with the pull of a string. Adding a bit of sparkle is one way to glam up an outfit and the Barbie Loves Glitter Vacuum does just that, not only can you customise your dolls clothes but your own too. Lots of other roles to choose from in the I Can Be range from Ballerina, Lifeguard and Chef to News Reporter, Computer Engineer and Vet. All these come with a code to enter an online world and "try on" each role and much more.

Other dolls in the Barbie family are her boyfriend Ken, or to give him his full title Ken Carson, who is slightly younger having first appeared in 1961. She also has 3 sisters, Skipper, Stacie and Kelly. What fun & games they can have together whether it is donning a pair of roller skates or heading out on a scooter or skateboard. Over the years Barbie has owned many pets including cats and dogs, horses, a lion cub, a panda and a zebra. We probably couldn't accommodate some of the more exotic animals but would love to have a dog like Tanner to take for a stroll along with her new puppy.

So take your pick from the amazing world of Barbie and here's to another 50 years!