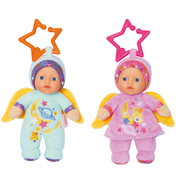 Angel For Babies 18cm Dolls
£12.99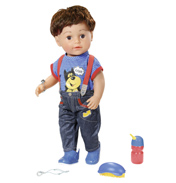 Brother 43cm Doll
£54.99
First Love Nightfriends Doll
£19.99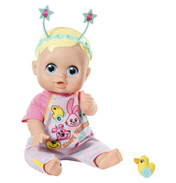 Funny Faces Bouncing Baby Doll
£30.99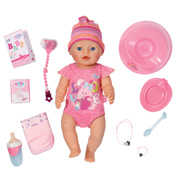 Interactive Doll
£49.99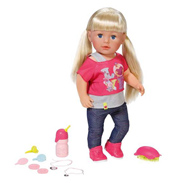 Interactive Sister Doll
£54.99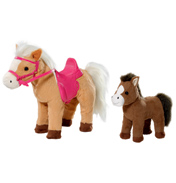 Interactive Sunny & Baby
£46.99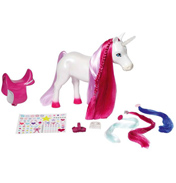 Interactive Unicorn
£22.90
Little Sister Mermaid Swimming Doll
£33.99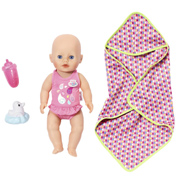 My Little Bathing Fun Doll
£23.99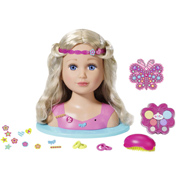 Sister Styling Head
£33.99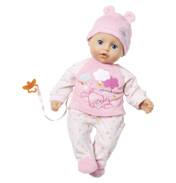 Super Soft Girl
£19.90
Most little girls love to play the role of Mummy and perhaps some boys would like to be Daddy, well, with this delightful range from Baby Born there's no stopping them. Brought to you by Zapf Creation and thanks to great variety and choice from the Baby Born and my little Baby Born series the scene is set to encourage a child's nurturing instinct.

Whether you have the girl or boy doll there's no need for batteries to bring to life the amazing features which include having a drink from the bottle, eating food, wetting their nappy, using a potty, crying and squealing. The joy of not having batteries and being waterproof is that when you have a bath they can too! In fact my little Baby Born Splashing Baby loves nothing more than to dress in her costume and go swimming.
Out and about the possibilities are endless whether in the car or on foot. Which mode of transport suits you best, a pram, pushchair, buggy, jogger or stroller? Perhaps you have two dolls and would therefore need the jogger for twins or a double buggy. Heading out in the car remember to put in the car seat. Don't forget to take along some spare nappies and a dummy is always handy for comforting should he or she start to cry.

As the Baby Born range is suitable for children 3 years and over they are sure to know what outfits and clothes they want to wear and also that of their dolls. What will they choose from the wardrobe today? Lots on offer starting with underwear, shoes and socks then onto the next layer, which colour dress or matching set. If it's cold outside then wrap baby up warm with one of the jackets.

Only thing left to do is choose a name for your Baby Born doll, be it a boy or girl there's certainly lots of weird and wonderful ones about these days so get your thinking caps on!