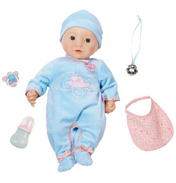 Baby Annabell Brother Doll
£55.99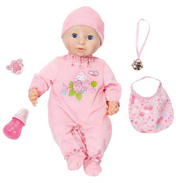 Baby Annabell Doll (Version 10)
£54.99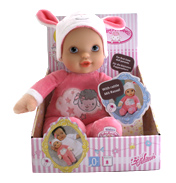 Baby Annabell Newborn Doll
£15.99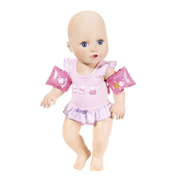 Learns to Swim Doll
£52.90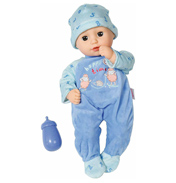 Little Alexander 36cm Doll
£22.99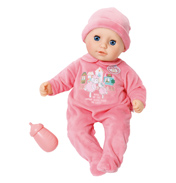 Little Annabell 36cm Doll
£20.99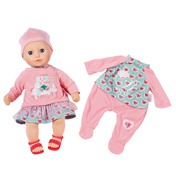 Little Annabell 36cm Doll with Dress
£26.99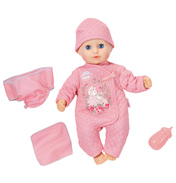 Little Baby Fun 36cm Doll
£33.99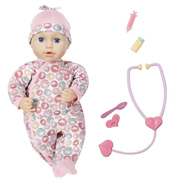 Milly Feels Better Doll & Accessories
£44.99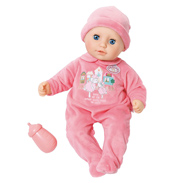 My First Baby Annabell
£20.99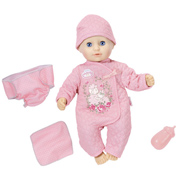 My First Baby Annabell Baby Fun Doll
£32.99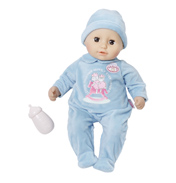 My First Baby Annabell Brother Alexander
£20.99
Welcome to the wonderful world of Baby Annabell from Zapf Creation. Here you will find all that is needed to support and encourage children's role play of looking after and caring for baby, from the doll and clothing collections to feeding and travel accessories. Of course not forgetting the obvious and must have requirement for all babies, the nappies.
If you think of the actions a baby performs, sleeping, babbling, laughing and crying then Baby Annabell does the same thanks to her many life like functions. If she starts to cry why not see if she is hungry and give her a feed from her very own bottle, watch her eyes open and close as she drinks, don't forget to burp her once she's finished! Perhaps she just needs to suck on her dummy which is always close at hand thanks to the ribbon and clip. Talk to her or make a sound and Baby Annabell will move her head towards it, should she be woken from sleep she may start crying but can be soothed by singing a gentle lullaby. All these acts from this functional doll encourage basic social requirements including loving, caring and assuming responsibility.

Perhaps you are on the move either by foot or on your bike, if on two wheels then to take Baby Annabell along with you, a biker seat is what you need and don't forget, safety first, a helmet too. Wanting to take baby for a walk then first get her dressed in one of her many outfits, choose clothes from a romper, a dress, coats and jackets right down to socks and shoes, a complete wardrobe is available, then head out in the stroller, a lightweight pushchair, or 2 in 1 travel system, which has a detachable seat. Take along the 3 in 1 Out & About Bag just in case your baby's nappy should need a change or you want her close to you, out of the pram, in this back pack style carrier.

Already got Baby Annabell and keen to add to your collection or if you would just prefer a boy doll then take a look at my first baby Annabell brother, soft bodied making him ideal for lots of cuddles and dressed in blue, he's a real cutie pie!

Make sure you are getting the genuine article by keeping a look out for the Baby Annabell lamb logo which is present on every piece of clothing and all dolls and accessories. Who can resist such an amazing interactive doll which will surely provide many hours of joyful play and the best thing is, unlike a real baby, they will never grow any older so no terrible twos or grumpy teenagers to contend with!!