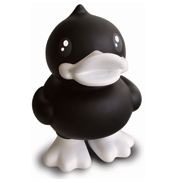 16cm Saving Bank
£10.54
Think bath time, and what's the first thing you think of? There are many toys for the bath in modern day life, but one that's stood its place through time is the classic rubber duck. Well the cute animal is back, and this time it isn't just the bath he's taking over but all areas of everyday life.

This new range is called B Duck, and he aims to bring fun humour to everyone that owns one of the amusing products. Whether you need cheering up in your office, classroom or home little B Duck is sure to help.

There are all kinds of products in B Duck collection, including things for the kitchen, bedroom or items that you'll carry around in day-to-day life. Each product comes with adorable duck designs complete with either a bright yellow or black finish.

Our most favourite item has got to be the funky duck themed umbrella. It comes complete with duck shaped handle, large duck face print and even a themed storage cover that's equally as amusing. Other favourites include the 29cm Saving bank, the calendar and the groovy motion speaker duck which really moves!

Did you know? The rubber ducks were popularized in 1970 when Jim Henson performed the song 'Rubber Duckie'.