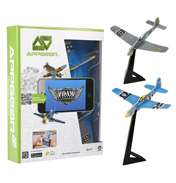 Foam Fighters
£3.99
Ipod, ipad and android gaming for children has seriously hit a new level with the new AppGear apps.

The unique thing about these App Gear games is that they combine modern digital gaming with physical objects that can control the action (instead of your finger) and join in with the fun.

The Foam Fighters app is great for budding fighter pilots who want to battle it out with classic WW2 planes. Attach one of the foam planes to the outside of your device and you're ready to go! Shoot down the enemy and earn points as you progress to upgrade the guns and bombs. If your friends have the same app you could even create a multiplayer battle over a local Wi-Fi connection.

App Gear has also created an awesome app for those Zombie fanatics too! In Zombie Burbz you're not trying defeat them, but you are one! Watch out though as humans are trying to take you out. Use traps and weapons to try and keep them at bay. Control your zombie around the App Gear game with and actual Zombie figure!

This new range of App Gear games for Apple and Android devices is a great way to keep the children amused. Whether it's their own device or a parents, children will love using the unique controlling methods and collectable figures.