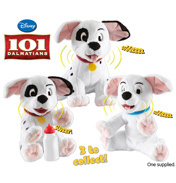 AniPets 101 Dalmatians 6" Plush
£11.48
Come and say hello to the friendly AniPets, an exciting range of cuddly toys from Character Options.

These cute creatures aren't just any animals though, they're some of the most well known characters that have ever been in TV and Film, so you'll be fully up to speed with their bubbly personality and funny characteristics. What's more, these toys aren't just ridiculously cuddly, but they come with fun sound effects and features too! Some you can squeeze and hear a funny noise, others you watch them dance and move! There's a whole selection of Anipets to collect so why don't you get started!
The 101 Dalmatians 6" Plush would be a great place to begin! There are three to collects but each one features different sound effects and a different coloured collar. One even has a bottle and he's all ready for feeding time!

One soft toy we do absolutely love is the 10" Singing and Dancing Simba, from the very popular Disney film 'The Lion King'. Give him a gentle squeeze and he'll begin singing his favourite tune 'Hakuna Matata' whilst having a little dance. Know the words? Why not join in the fun and sing along!

You're going to have so much fun with your new Anipet pals from the greatest Disney films.