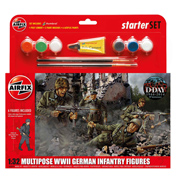 Multipose WWII German Infantry
£15.99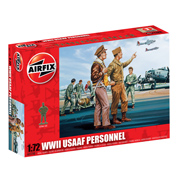 USAAF Personnel 1:72
£5.99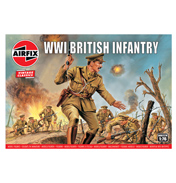 WWI British Infantry (Scale 1:76)
£8.99
WWI British Infantry 1:72
£6.99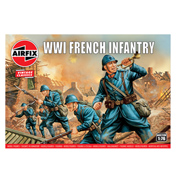 WWI French Infantry (Scale 1:76)
£4.13
SPECIAL OFFER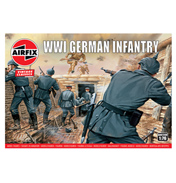 WWI German Infantry (Scale 1:76)
£8.99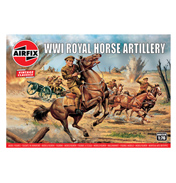 WWI Royal Horse Artillery (Scale 1:76)
£8.99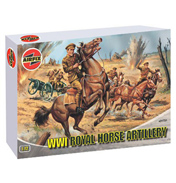 WWI Royal Horse Artillery 1:72
£6.33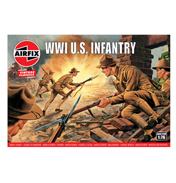 WWI U.S. Infantry (Scale 1:76)
£4.13
SPECIAL OFFER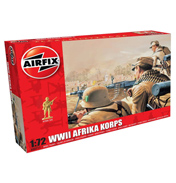 WWII Afrika Korps (Scale 1:72)
£4.13
SPECIAL OFFER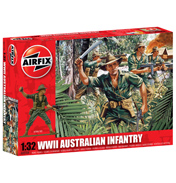 WWII Australian Infantry 1:32
£7.99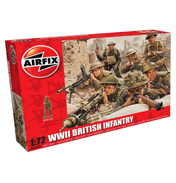 WWII British Infantry (Scale 1:72)
£8.50
Whether you call them Toy Soldiers, Model Soldiers, Plastic Soldiers or Military Figures, here you will find an abundance of Airfix products in scales of 1:32 or 1:72. A scale for a toy soldier is from his head to foot in mm. Sometimes this of course is an approximation as some figures are not stood bold upright and could be bent down in action for instance. 1:32 is considered to be the 'standard' scale for soldiers and this was first introduced by soldier manufacturer W Britain and as a guide is equivalent to height of approx 54mm.

The Airfix range of soldiers concentrates on military personnel from WWI and WWII as well as some other themes including Robin Hood, Ancient Britons, and Romans for instance. They are not strictly toy soldiers rather model figures given the level of detail and size. Miniature figures with combat themes are well rooted in history with some even being found in ancient tombs. In the 1700 and 1800's they began to become widely available, mainly made out of tin and during these years they were actually used strategically to plan battle moves during times of real conflict. Today of course they are mainly available in plastic and are used for collecting, display amongst other Airfix models or for use during role play re-enactments and playing war games.

In the 1:32 range, many regiments that have fought in war are included such as British Paratroopers (with distinctive red beret and shoulder patch), US ( from Airborne Divisions) German Paratroops, and Infantries from Britain who helped free occupied Europe, Germany (baddies with distinctive jack boots and shaped helmets), Australia (as fighting in the jungles of South East Asia), Russia (fighting to protect Mother Russia), US, as well as Africa Korps (as used in the Northern African campaign) and British Commandos formed for the first time in 1940, to name but a few. For Airfix this scale comes in the red boxed sets and they have usually 14 unpainted pieces in each box in a number of different action poses.
The 1:72 scaled Airfix Soldiers are available in the illustrated blue grey boxes and the range includes a number of different World War One and Two regiments many of which include relevant equipment such as the US Marines (or Leathernecks as they are also known as) which come with bazookas and flame throwers as well as an inflated boat, or Tommies with their trench mortar for instance. These are smaller at around 25mm and generally have 48 pieces per set as a result. Again these Airfix figures require painting.

Airfix production techniques and vast experience in modelling kits mean these sets are perfectly scaled. Each box comes with a painting guide and if the box has mixed poses the quantity of each pose provided may vary. All are skill level one which makes them suitable for every age (very small children excepted due to nature of small parts) and if you don't fancy painting then so be it, you will still enjoy having them in your collection.

Ready, Aim, Fire!