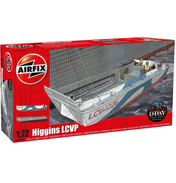 Higgins LCVP
£7.50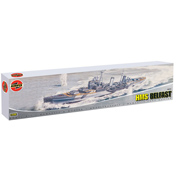 HMS Belfast - A04212
£16.99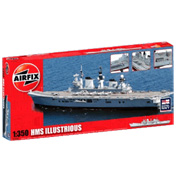 HMS Illustrious
£39.99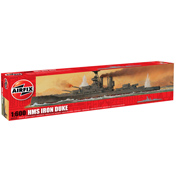 HMS Iron Duke
£13.72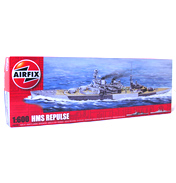 HMS Repulse
£17.04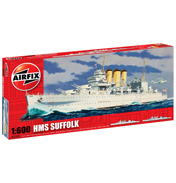 HMS Suffolk
£9.99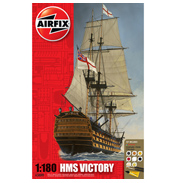 HMS Victory (Scale 1:180)
£26.90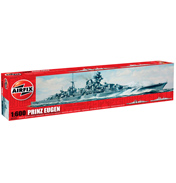 Prinz Eugen
£13.49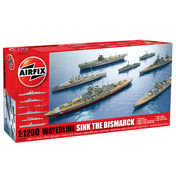 Sink the Bismarck!
£19.99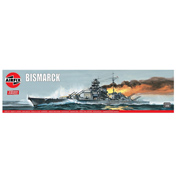 Vintage Classics Bismarck (Scale 1:600)
£18.99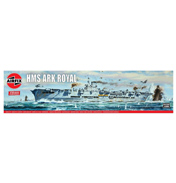 Vintage Classics HMS Ark Royal (Scale 1:600)
£18.99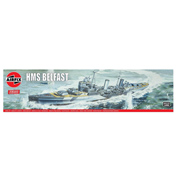 Vintage Classics HMS Belfast (Scale 1:600)
£18.72
Airfix ships can be subcategorised into Warships, Passenger Liners, Classic Ships, Launches and finally Submarines. Gift Set versions of these are available under Gift Sets as here you will find the basic sets only. Basic only in that they do not come with paint, brushes and glue, which are add-ons, as there is nothing more basic about the actual models themselves, indeed more the opposite. Ships make wonderful models to recreate and in fact one of the very first Airfix retail products was of an old English galleon, The Golden Hind which was Sir Francis Drake's. It was retailed through Woolworths back in 1952 in a plastic bag and card header to reduce price. This small piece of Airfix history is still available today, not in a bag though, rather a cardboard box and we are afraid it is no longer 2 shillings!
A number of different skills and scales are available to suit all modellers in this range and we will mention a few below on some of the most popular models.
Airfix include the most famous warships in their collection right through from the First World War to present day. They also cover both sides of the British and German Navy. One of their more recent announcements from Airfix is that a replica of HMS Daring is due for a 2012 new release, and this is much anticipated.
Looking at significant warships in this collection, the ship name Victory has been used 5 times by the Royal Navy. The first was back in 1559 used in the defeat of the Spanish Armada, next was in 1765, with battles in 1793 and 1797, however she is most famous for her role in 1805 at the Battle of Trafalgar when she helped in the combined defeat of both France and Spain. Unfortunately Nelson saw his end in Victory's cockpit having suffered a musket fire wound. After a major refit she remained in service until 1812, becoming the flagship of the Portsmouth Command and today she is preserved for prosperity and welcomes aboard many visitors still to this day. Join in the fun with Airfix's scale model of HMS Victory which is scaled at 1:180 and has a massive 353 parts and as such requires a skill level of around 3.
Next we look at HMS Belfast which took part in the D Day Naval assault as part of Operation Overlord, this one is also skill level 3 so quite complex, has 250 parts and is scaled at 1:600. For HMS Illustrious, or HMS Lusty is you prefer, this is available in 1:350 and as an aircraft carrier she also comes with some model scale aircraft to give a more accurate depiction of her in operation. She is also skill level 3. After that we have the Airfix Ark Royal which is available here as part of the Sink the Bismarck set along with the German Battleship, HMS Hood and Suffolk. HMS Hood is of course available as a separate model too given her crucial role in the Second World War. Other German Navy vessels available include the E Boat, and battle cruisers Scharnhorst or Gneisenau and Prinz Eugen. For the Royal Navy other 1:600 scaled sets include HMS Warspite, HMS Iron Duke, King George V, Repulse and HMS Nelson. Plus HMS Victorious is available as an easier skill level 2 with just 94 parts as is the Trafalgar Class Submarine with only 41 parts at scale 1:350.
Moving on to Passenger Liners of course the most famous has to be the Titanic, however this at the moment is only available as a gift set so is found elsewhere on the website. Queen Mary 2 and QE2 are also currently out of production which is a shame as these too were popular models.

Classic Ships are some of the most satisfying models to create with their intricate rigging, sails and masts which are a joy to work on. Plus they look marvelous on display too. In very early model days it was these types of vessel which were often included in the ship in a bottle kits.

With regards specific Classic ships we have already touched on HMS Victory which falls into both categories, but what about Captain Cook's Endeavour used in his quest for discovering Australasia, or the Cutty Sark. The Cutty Sark was a clipper ship (which basically refers to a fast sailing ship) and this one was used as a merchant vessel for tea transportation, then for training and is now also on public display and has been since the 1950's, even after a devastating fire affected her during restoration in 2007. Her name actually means short chemise in Scotland and comes after a character is said to be wearing one in a Burns' poem. This model at skill level 4 gives plenty of opportunity to shine in modeling as well as providing literally hours of entertainment. Another classic to consider is the Swedish warship, the Wasa 1628 which is scaled at 1:144 and is slightly easier at level 3. This ship was made famous by an impromptu sinking shortly after setting sail, much to the Swedish King's horror!

Launches include the Vosper Torpedo Boat, built small for fast attack for use by the Royal Navy during WWII. Available here in scale 1:72

All in all a brilliant selection of Airfix Ships to get you started or keep you going.