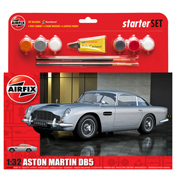 Aston Martin DB5 Starter Set (Scale 1:32)
£15.99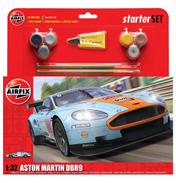 Aston Martin DBR9 Gulf Gift Set 1:72
£20.99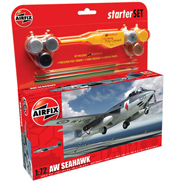 AW Seahawk
£10.55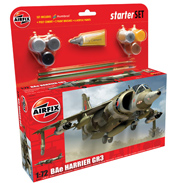 BAE Harrier GR3 Set
£9.99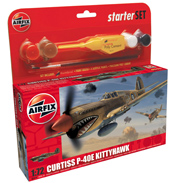 Curtiss P-40E Kittyhawk Gift Set
£8.44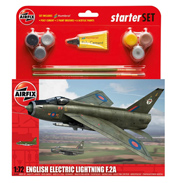 English Electric Lightning F.2A
£19.99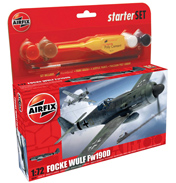 Focke Wulf Fw190D Set
£7.18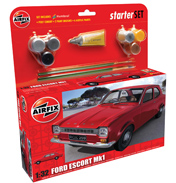 Ford Escort Set
£10.55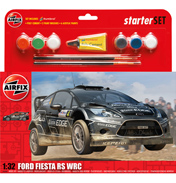 Ford Fiesta RS WRC Starter Set (Scale 1:32)
£21.99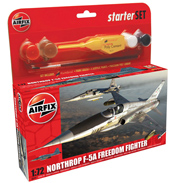 Freedom Fighter Set
£7.99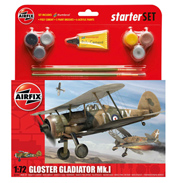 Gloster Gladiator Mk.1 Starter Set
£10.95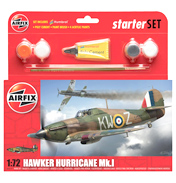 Hawker Hurricane MK.1 Starter Set
£12.99
The name Airfix actually stems from its earliest days when the creator made inflated toys which needed air to be 'fixed' into the products, so today the origins of the name have little connection. He also wanted to make sure the company was one of the first you would come across in directories, and that's why it starts with 'A'! Nowadays, this brand name is very well known across the world and is embedded deep in our minds and hearts, perhaps from childhood memories as the kits started to become very popular in the 1960's and 1970's. Even through multiple changes in ownership the brand image still remains strong which is testament to how much the Airfix products, including Mini Kits and Starter Sets, are valued by the consumer.

For those of you new to Airfix, the basic product is a plastic scale kit to be used in modelling. The plastic parts or castings are made by a process called injection moulding (or molding) and this came about in Airfix's history as the founder moved into comb production after WWII where he needed an injection moulding machine in order to make these pocket combs and one thing led to another. As part of this moulding process the parts are attached to a plastic sprue or tree and one of the most satisfying stages in making an Airfix model comes from detaching the parts from this casting frame, because this signifies the commencement of your hobby project. This can be done by hand however it is probably best done with a craft knife or pliers to prevent any damage to the parts. If you are an expert Airfix modeller you would then want to sand off any rough edges although this is not strictly necessary all of the time, particularly for new starters.

The parts come in coloured cardboard boxes which mostly have detailed artist drawings of the model in action on the front and the contents of the box also include assembly instructions. Basic kits do not come with glue or paints so these need to be purchased separately, however on this shelf you will find some starter gift sets which come complete. The model is then formed by gluing the parts together. This can then be painted and varnished if required or if so desired.

These beginner sets come in 2 different types – Mini Kits and Starter Sets.
The Airfix Starter Kits are an excellent way for beginners to start Airfix with as they include the model kit, paints and brushes required, together with a simplified painting instruction. They come in three different sizes and the small kit with 1:72 scaled model aircraft are perfect for new starters or first time modellers as they contain just 4 acrylic paints, glue and brush. For examples of this size look at the Airfix Red Arrows Gnat or the Airfix Northrop F-5A Freedom Fighter. The medium and large starter kits, such as the Airfix Aston Martin DB5 or the Airfix Euro Fighter Typhoon, are 1:72 scaled Aircraft or 1:32 scaled cars, along with 6 paint pots, 2 brushes and glue tube, the larger ones differing as they may have more parts to assemble or be slightly more complex. They are however all suitable for beginners and have everything you need to achieve a perfect finish straight out of the box.

There is then the Mini Kit which are small introduction pieces to the world of Airfix which require minimal assembly (a little gluing), and generally include glue and come pre-painted and are scaled 1:144. The Airfix Mini Kits are still highly detailed models and are painted to an excellent standard. Examples of these Airfix Kits include the Nighthawk, and McDonnell Douglas Planes.

Whoever you have in mind, whether they're a youngster or a not-so-youngster, an Airfix Starter Gift Pack makes the absolute perfect present and is likely to keep them out of trouble for many an hour!