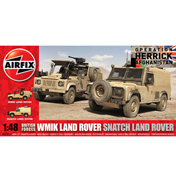 British Forces Land Rover Twin Set
£14.99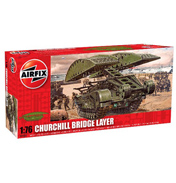 Churchill Bridge Layer
£15.99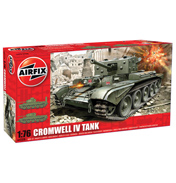 Cromwell MK.IV Cruiser Tank
£6.99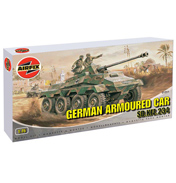 German Armoured Car - A01311
£5.05
Landrover 1 Tonne FC Ambulance
£6.99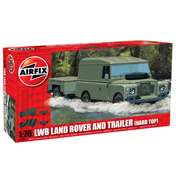 LWB Landrover Hard Top & Trailer
£7.37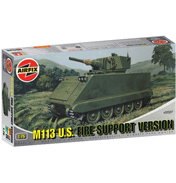 M113 US Fire Support Version
£6.99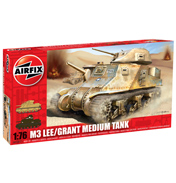 M3 "Lee Grant" Medium Tank
£5.98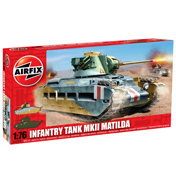 Matilda Tank
£6.15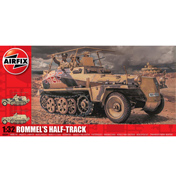 Rommel's Half-Track
£9.99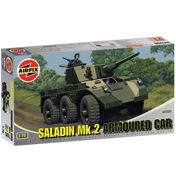 Saladin MkII Armoured Car
£6.99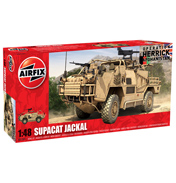 Supacat HMT400 Jackal
£14.00
Airfix have a vast array of military vehicles which can be subdivided into Field Gun Sets, Military Transporters and Tanks. Most models have a scale of 1:76 but some are 1:72. Many are skill level 2.

Artillery generally means weapons capable of reaching much further ranges than personal weapons and here you will find a number of Field Artillery pieces and modern artillery is usually large calibre, firing at low angles, often sitting on a carriage to manoeuvre (and also to fire from) and includes equipment such as the field gun, cannon, and rocket, all used to support troops in the field. Here you will discover Airfix's range of different field guns as well as carriers. The carriers were vital in order to move the guns around as and when needed and as different battle situations arose. They were used in both the First and Second World Wars.

Airfix Field Guns include the 25pdr (and Morris Quad used to tow it), the Bren Gun Carrier and 6 Pounder Anti Tank Gun used effectively against German Tanks, the AEC Matador carrying the 5.5" Gun which became a proper workhorse, the 88 Anti Tank Gun and Tractor used against Russian Tanks, the Swedish Bofors Gun and Tractor used as an anti aircraft weapon, the Opel Blitz Truck with Pak 40 Anti tank gun which showed great resilience and the British Light Field Gun which was usually towed by a Landrover. Tank weaponry included the 75mm Assault Gun which comes on a turret-less Panzer tank body.

Military transport includes the popular Bedford QLT Truck which was used extensively for carrying troops, and the QLD version was used for carrying cargo, the QL sometimes being referred to as 'Queen Lizzie' as a nickname. Other Bedford trucks include the MK 4 Tonne used for carrying general purpose loads and the MK series also included an adapted 4 tonne truck for use as a Tactical Aircraft Refueller. Landover's are also a well-liked choice and come as a 1 tonne ambulance, as well as the more modern long wheel based (LWB) soft top and trailer all purpose army vehicles or hard topped version as an alternative.
Many other military vehicles are available and the tracked landing vehicle the Buffalo Amphibian and Jeep is a must for your collection as is the Duck (DUKW) amphibious truck used in D Day Landings and Churchill Bridge Layer to help with water crossings. A number of armoured vehicles are also featured including the Saladin, and Saracen APC used to carry and protect personnel during transportation. One more personnel carrier comes in the White Half Track.

Airfix Tanks are available by all of the key manufacturers and this type of vehicle is tracked and armoured for front line battle. Vickers and Sherman are some of the most well known, as are the Churchill series named after the Prime Minister Winston Churchill. In Sherman Tanks, designed by US military engineers, the M4 was an important tank used by the allies in WWII, the Crab Tank is another used to support infantry through minefields designed with a front chained arm to hunt mines, and to trigger explosions without damaging the tank. Sherman also has a rocket launcher tank in the form of the Calliope. During the Second World War one of the standard main UK tanks was the Churchill Mkvii, it was slow but heavily armored and helped in the Battle of Normandy with its excellent fire power. British military engineers also developed a flame throwing Churchill Crocodile Tank.

German Nazi Tanks include the Panzer IV, Tiger I and Panther and other tanks of interest include the Airfix Scorpion Tank which was one of the first aluminum tanks in the world. (With regards Military Vehicle sets we are afraid the UK Military Support Set is only available to Airfix Club members so we regret we are unable to offer this for sale).

This range also includes the 1:48 Operation Herrick support sets. Operation Herrick is a codename used by British operations in the Afghanistan war and consists of support groups to aid Nato's International Security Assistance Force (ISAF). Includes Helicopter Support, Land Rover Patrol and Patrol and Support Group.

Overall you will agree a good range of Airfix Military Vehicles and Tanks to choose from and complete your battle field set up.