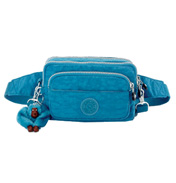 Multiple Multi Pocket Waist Bag
£46.00
Trim Toiletry Bag
£37.00
Going somewhere nice? Kipling Luggage includes all the favourite kipling suitcase and travel bags.

Have you ever asked yourself why there is a monkey on every bag? Why a "monkey"? Well, whenever you think of Kipling, you think of the monkey. Of course the brand name "Kipling" and his famous work "Jungle book" give Kipling the perfect connection. Monkeys are symbols of fun and adventure, so the monkey naturally became the mascot of the brand and not much later it became the monkey keyring. Every Kipling monkey is named after an employee from around the world and every collection has its unique monkey! For sure, the monkey has become a collector's item for anyone who is fun-loving and young at heart!... We already know of Kipling addicts owning not less than 425 monkeys. Check out the Kipling Monkey museum on their website.

All new season colourways available – please enquire if there is a colour you want that is not displayed.