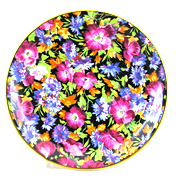 Majestic Coaster
£5.99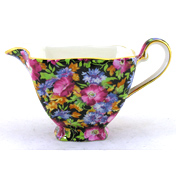 Majestic Creamer
£19.99
Majestic Hexagonal Planter
£19.99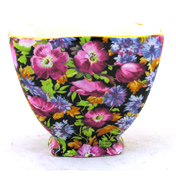 Majestic Sugar Bowl
£9.99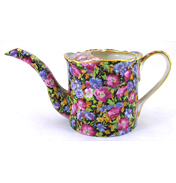 Majestic Watering Can
£34.99
Following the success of Royalty the golden-yellow of Royalty pattern was changed to black to make Majestic. This design typified the far eastern influence with its rich colour making a bold statement on crockery presentations. Sadly the Majestic Chintz has been discontinued the pieces in this section are all there are or will be so an opportunity to add to an existing collection or start a new.
MAJ000 Royal Winton Majestic Tea Set
Buy this at a discount price; these are now destined to be collectors pieces the 'Single Majestic Tea Set' complete with one Ascot Teacup and Saucer, the Majestic Ascot Shaped 2-Cup, the Majestic Ascot Creamer, this offer cannot be repeated after the current stock has gone.
Contact Us for more details of this fantastic offer.