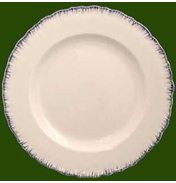 Shell Edge Blue Plates
£9.99
Leeds Pottery has reintroduced Shell Edged to market with a wide selection of complementing pieces available in either blue or the plain, self coloured design.
The late 18th century saw the development of a style of tableware which combined the handsome colour and smooth texture of plain Creamware with a moulded and often tinted edging. This detailing intended to draw the eye to the food being served. The most popular edging pattern proved to be one which imitated the random yet rhythmic structure of a scallop shell and became known as Shell Edge. This Shell Edged Ware was produced in vast quantities by potteries throughout England and was widely exported, accounting for some 40-70% of dinnerware sold in America between 1800 and the eve of the Civil War in 1861. Little of this original pottery survives today as antiques so the Leeds Pottery Shell Edge is inspired by original designs in their eighteenth century pattern books and this new range of Shell Edge dinnerware does much to rekindle the spirit of this age of elegance.
Initially marketed for the upper middle class families and sold as complete dinner services, British shell-edged ware very quickly became accessible to the masses. Contributing to its popularity was the decorative Shell Edge pattern itself. The moulded rim frequently was coloured blue or green, emphasising and framing the food on the plate, these colours remained popular throughout the ages and indeed the most cost-effective.
English shell-edged earthenware was produced and exported in such large volumes between 1780 and 1860 that it appears to have been used in almost every American household. In terms of quantity, being the least expensive English earthenware available with colour decoration, shell-edged ware was in fact one of the most successful developments in ceramic production during the 18th and 19th centuries. The British shell-edged ware dominated the world market for this range and vast quantities were made both for the British market and for export, although Americans were by and large the largest consumers. To this very day it remains a very popular design both here in the UK and overseas.
The range includes a full selection of cups, saucers, plates and soup dishes to tailor to your own requirement along with Tea for Two Sets in plain or blue edge. Complete your service in one colour alone or mix and match both together, the choice is all yours!