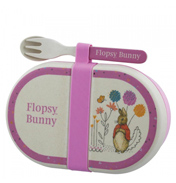 Beatrix Potter Flopsy Bunny Children's Organic Snack Box & Cutlery Set
£14.99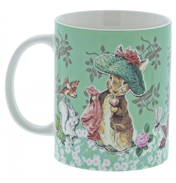 Benjamin Bunny Mug
£10.99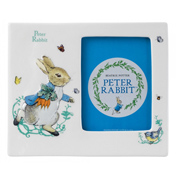 Ceramic Photo Frame
£17.84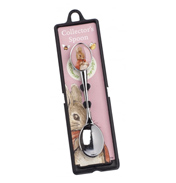 Flopsy Bunny Collectors Spoon
£5.99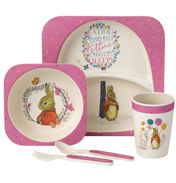 Flopsy Bunny Dinner Set
£17.90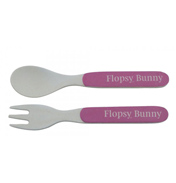 Flopsy Bunny Fork & Spoon Set
£4.99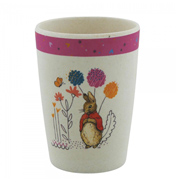 Flopsy Bunny Organic Beaker
£7.99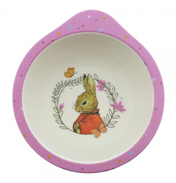 Flopsy Bunny Organic Bowl
£7.99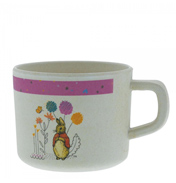 Flopsy Bunny Organic Mug
£6.99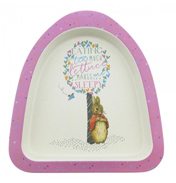 Flopsy Bunny Organic Plate
£8.99
Flopsy Mug
£10.50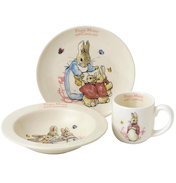 Flopsy, Mopsy & Cotton-tail 3 Piece Nursery Set
£25.99
Helen Beatrix Potter (1866-1943) was a best selling English author born on July 28 in Kensington Square, London, England. Her parents were Rupert Potter and Helen Leech and that's why the name Helen was dropped from her name to save any confusion with her mother.
An ardent illustrator, a qualified mycologist (the study of fungi), and an active conservationist, she was best known for her many best-selling children's books that featured animal characters. It was her love of animals and nature that led her to study and draw them.
Beatrix Potter's books have provided many hours of enjoyment to generations with her classic tales of Peter Rabbit and his friends. Her tales recently have been gracing the big screen showing that the Beatrix Potter stories have an appeal that have a grown up nostalgic feel to them, as well as being a continuing childhood favourite. As parents continue to read their own favourite stories to their children this means her tales will continue to be a household favourite for years to come.
Churchill China's premium brand, Queens, continues to interpret her tales onto a variety of house wares, mugs and gifts. Queens produce a variety of fine bone china mugs as well as a two piece box set, which makes a brilliant gift depicting images and text from Peter Rabbit and Jemima Puddle-duck. Images from the Tale of Peter Rabbit have also been transferred onto textiles comprising of a double oven glove, an adult and child's apron and tea towels.
Introduce loved ones to the Mug of Jemima Puddleduck who has trouble keeping hold of her eggs and enlists the help of a cunning fox, thankfully Kep the Collie is there just in time to rescue her. Or there is the Mug depicting the lovely Peter Rabbit who gets into trouble in Mr. McGregor's garden and see how he returns in a mug of the tale of Benjamin Bunny to rescue his clothes! Or perhaps join Mrs Tiggy-Winkle with a brew as she is joined by Lucie to launder clothes from animals and birds of the neighbourhood. All these lovely stories come to life as illustrations on adorable pottery pieces.
Churchill can trace its origins back to 1795 to the foundation of its first factory in the heart of the potteries Stoke-on-Trent in Staffordshire, England. 'Queens' as well as 'James Sadler' are two of its major brands producing fine bone china and supplying stores throughout the world.