Open Work Plate on Stand
N/A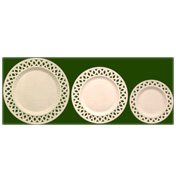 Open Work Plates
£9.99
You will find on the Leeds Pottery Dinnerware shelf a choice of plates in various piercing patterns and some are also available unpierced. In most cases there is a range of plate sizes including small, medium, dinner and serving. To make the full compliment of a dinner service there are in addition soup dishes and soup bowls along with harmonising serving and condiment pieces such as the Sauce Boats and Cruet Sets which, although essential, are often missed from today's dinnerware selections.
Whilst in the past Hartley Greens & Co has used the name Leeds Pottery as a brand the company itself has now been renamed Leeds Pottery for which it is best known.
The Leeds Pottery Plates with their associated ware are handmade by the skilled potters using the moulds and pattern books passed down through generations since the 1780's. Taken from its original home this creamware is now produced in mid England in the area known as 'The Potteries' which is the traditional home of English pottery manufacture. This is where the materials are of the very best and the skills are of the finest at Longton, Stoke on Trent. Longton is one of the original six famous pottery towns in England and has a wealth of tradition and history.
Piercing was used in the early days to decorate otherwise plain plates although later truly becoming an artwork in itself. The simplicity of that original creamware is now enhanced by using this highly skilled decorative method. Basic stainless steel tools are used to cut through the still soft clay. These tools require a keen eye and very still hands to repeat perfectly the piercing patterns from plate to plate in the various different sizes. Little has changed from the early periods, only perhaps the size and style of the piercing which now is sometimes in the form of hearts, diamonds or even clubs. The Chestnut Plate is a fine example of this type of pierced ware.
The type of piercing could be varied even more still to provide delicate slots so positioned in the rims of plates to allow the intertwining of ribbons in designs such as the Ribbon Plate. Alternatively a pierced lattice effect could be achieved in such as the Pierced Lattice Plate and the Open Work Berry Plate. Intricate patterns of piercing around the Oil & Vinegar Set, the Oval Sauce Boat & Ladle with the Oval Sauce Plate and the Round Cruet Set and other serving pieces accentuate the flowing lines of these beautiful items ready to adorn the most elaborate of dinner settings.
Choose from the wide selection of different designs to create a beautiful, unique dinnerware display and be the envy of all. Mix in with some of the unpierced plainer collections to have even more choice, that's if you need it of course!