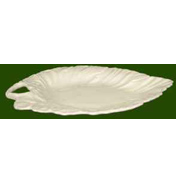 Leaf Dish
£19.99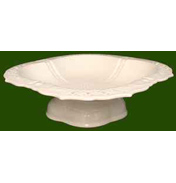 Strawberry Dish
£66.56
In time honoured tradition Leeds Pottery is produced as it was way back in the 18th and 19th century entirely by hand, produced by qualified potters who need a steady hand and a keen eye to ensure that every piece meets the high standard required. The secrets of these long gone pottery artisans are not lost and the bygone designs are still being made today to be treasured by all current and future generations of collectors.
The designs were first used by Leeds Pottery in the heart of Yorkshire hundreds of years ago in Leeds is now made in the heart of the Potteries, in Longton which is one of the six pottery towns.
There are some exquisite pieces in the range of Leeds Pottery Bowls and Dishes from the simplicity of the Embossed Basin to the truly magnificent pierced Chestnut Bowl. The display of dishes typifies the splendid designs produced all that time ago and of course today.
Pierced Openwork 'Bowls and Dishes' is a style of pottery piercing that goes back to the very beginnings of early pottery design each piece of clay carefully picked from the moulded clay to form a beautiful basket like finish, hours of work go in to producing these intricate pieces. The original pottery of Leeds Pottery was based in Yorkshire in the hub of the industrial revolution.
Visiting the Victorian ceramics sections in museums you will find even today examples of these pieces still surviving today miraculously standing the ravages of time.