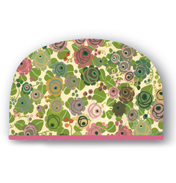 Floral Romance Cotton Tea Cosy
£5.99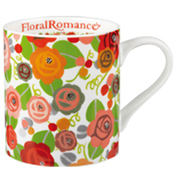 Floral Romance Fine Bone China Mug
£6.99
Julie Dodsworth is a Yorkshire born and bred coal miner's daughter with a love of the painted decoration of narrowboats. She has captured the spirit of the traditional canal boat painting design with her new range called Floral Romance.
Imagine a cheering stove, a steaming, whistling kettle for the plentiful tea, and gleaming brass and delicately embroidered lace which were all part of canal boat life. Home wares were brightly painted and plates and crockery were ornately decorated, invariably with heart-shaped green leaves painted first to give a template to set out the rest of their decoration. In this case, with Floral Romance, next came beautifully coloured roses in pinks, purples and a smattering of orange.
Roses were a key design on a traditionally decorated English Narrow Boat and by the latter part of the 19th century roses featured heavily in narrowboat art work, often seen on cabin doors, boat sides, water cans and water barrels and of course throughout the interior on fixtures and fittings.
Julie originally started brightening up her own narrow boat with these roses and the original hand crafted designs come together in this beautiful print that is Floral Romance.