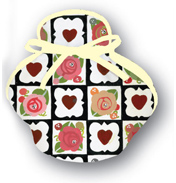 Chocolate Box Cotton Open Top Cosy
N/A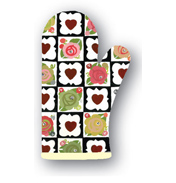 Chocolate Box Cotton Oven Gauntlet
£4.99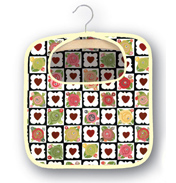 Chocolate Box Cotton Peg Bag
£5.99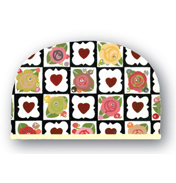 Chocolate Box Cotton Tea Cosy
£11.00
This Chocolate Box design is one of four created by Julie Dodsworth based on artwork found on traditional narrow boats. The narrowboat or narrow boat is a boat of a very distinctive design, so called to fit the narrow canals of Great Britain.
Chocolate Box consists of a chequerboard effect including black squares filled with curves and hearts along with squares of differently coloured roses.
Most canal boats have a particular line design on their rear bulkhead or cabin doors which is known in the trade as 'mouse's ears'. Elements of this decoration are included within the black squares as the curved bits which gives the pattern a lovely connection with Julie's hobby of narrow boat painting and industrial heritage.
These designs are quite unlike anything else you will find on the high street and will look wonderful in a kitchen of traditional or modern design.