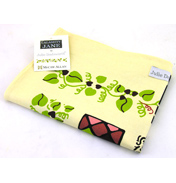 Calamity Jane Linen Union Tea Towel
£4.49
Julie Dodsworth's own narrowboat boat is called Calamity Jane, and one of her favourite hobbies is painting canal boats. This particular hobby requires a great deal of patience, an eye for colour, tradition and a love of the English waterways (and weather included!).
Now she has carried her love of this work through to some wonderful items for the home. This range is called Calamity Jane also, in honour of her beloved boat and the inspiration for the pattern of the home ware and kitchenware pieces comes straight from artwork on her boat.
Here you will find kitchen textiles such as tea towels, oven gloves and aprons, as well as bags and pottery such as mugs, all designed on the back of her time spent aboard.
As such we are sure you will love this charming selection of Calamity Jane.