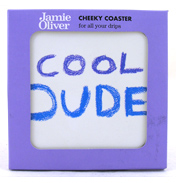 Cool Dude Round Coaster
£2.99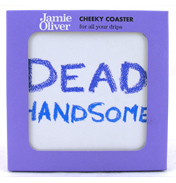 Dead Handsome Coaster
£2.99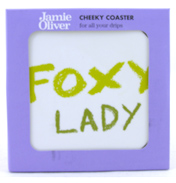 Foxy Lady Round Coaster
£2.99
Head Chef Mug 350ml
£7.99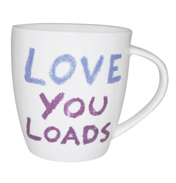 Love You Loads Mug 350ml
£7.99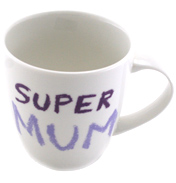 Super Mum Mug 350ml
£6.99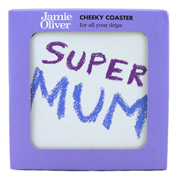 Super Mum Round Coaster
£3.99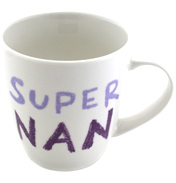 Super Nan Mug 350ml
£6.99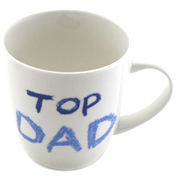 Top Dad Mug 350ml
£7.99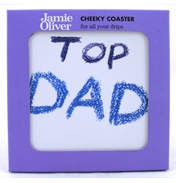 Top Dad Round Coaster
£2.99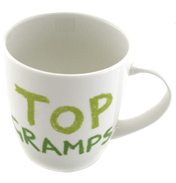 Top Gramps Mug 350ml
£7.99
These mugs designed by Jamie Oliver are made by Churchill China plc which is a British pottery manufacturer based in Stoke-on-Trent here in England.
Jamie Oliver, the television chef and personality, is streetwise and lightning fast and this southern lad knows what he wants and does it. Jamie with Churchill China has put together this exciting collection of Cheeky Mugs with simple cool graffiti style wording, incorporating fun and humorous titles and names. Each mug is packaged in a stylish, printed eye-catching tin with the diamond geezer himself on the front and a range leaflet inserted to show what other Jamie mugs are in the collection. These mugs make super gifts and are sure to raise a few laughs with the appealing fun names and designs, a mug for everyone and every occasion. There are nearly fifty cheeky mugs with a number of coasters available printed with names or humorous adages. Every member of your friends and family deserves a Jamie Oliver gift and there is bound to be one that is applicable to the person or suiting a particular event or occasion. As soon as they receive this special gift you are bound to have a reaction!
These cheeky mugs just have sayings on the side and make great gifts as they are designed by the cockney sounding cheeky chappie Jamie Oliver so that fun-loving consumers can have a bit of banter with their mates, brothers, sister, spouse or parent. Everyone has friends or family who are real characters or who have done something funny, or an occasion that they need reminding of well so just choose the Mug that suits or fits the event and have a great big laugh with them about it. Bring a smile to their face every time they use the mugs. They make excellent office gifts and may well just be within that Secret Santa budget at Christmas time, so try and get the office joker back for all his jibes in this fun, harmless way.
For partners try Big Spender (maybe suitable for the missus?!), Sexy Beast, Love Your Loads, or even Posh Totty. For family have a look at Big Fella (suitable for Dads), Top Dad and Mum, or Gramps. For friends go for Best Mate, Bossy Boots, Hippy Chick, or Green fingers if they are gardeners. For any awkward teenagers with attitude try Chatterbox, Cool Dude, Man of the Match (particularly if they are into sport), Party Animal or Drama Queen, or if they have just got their exam results –try Clever Clogs. For children try the mini sized mugs such as Cutie Pie, Cheeky Little Devil or Little Princess. For the office there is Tea Boy, Chocolate Lover, Whizz Kid, or even Happy Camper and for single guys what about Babe Magnet because that's what they always think!
There is a also a series of Bottoms Up Mugs each with a cheeky graffiti style message which starts on each side and ends on the bottom – hence the Bottoms Up bit! Choose from catchy sayings such as All Mouth on the side – No Trousers on the base, or Get your Coat on the side and You've Pulled on the base. Cheeky and fun sayings, yet never rude so are suitable for all recipients. The Squeeze Mugs such as Sorry Love- I've Got a Headache and Overworked - Underpaid are a variation on these themes, again with the saying continued on the bottom just with a different, more updated shape and size.
James Trevor Oliver, MBE, was born in Clavering, England 27 May 1975 and is better known as "Jamie". Earlier known for his first book and TV series 'The Naked Chef' he is an English chef, restaurateur, and TV personality well known for his food-focused television shows and cookbooks. He is more recently famed for his campaign against the use of processed foods and for the goal of serving wholesome grub in the nation's school kitchens . His efforts to improve the population's unhealthy diet and poor cooking methods within the United Kingdom have now been extended into the United States. Jamie's particular speciality is relaxed Italian cuisine, although he is considered to have a broad international repertoire and following.
Jamie is famous for his on TV quick wit and off the wall comments and a fast, easy, wholesome style of cooking so it made sense that he got together with Churchill to produce this range of mugs with a selection of tongue in cheek comments.
You can say it all with the right gift and in this case the gift of a Jamie Oliver Mug says it all for you. It may be that you are trying to say the right words to your wife or girlfriend, or you could be tongue in cheek saying to the person who really fancies themselves or perhaps just showing your appreciation with kindly words. Plus as there is a lot of choice this means you are sure to find the right present here.