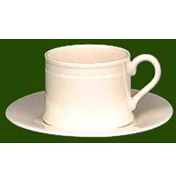 Cup & Saucer
£15.18
Jugs
£36.35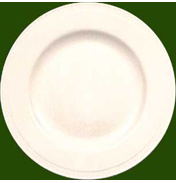 Roulette Plates
£14.38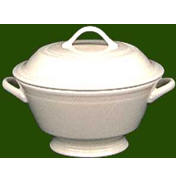 Small Covered Handled Bowl
N/A
The Leeds Pottery Hunslet range has the most extensive number of pieces to it with individual items to cover most needs and requirements. With its Plates, Mugs, Jugs, Bowls, Cups and Saucers, and full Dinner Service it is ready to fulfil your every need or requirement.
Hunslet Tableware is inspired by the simple utilitarian crockery design which was primarily produced in the 18th century for use below stairs. Bold and heavy shapes were often decorated with a single outer band of herringbone moulding (this is called Roulette). Hunslet's simple charm could no longer be confined to the servants use and it had to be given pride of place on the main table upstairs. Although originally made in Hunslet Leeds, the pottery is now made in the heart of the Staffordshire and the Potteries at Longton are in one of the original famous English pottery towns.
This Hunslet simple pottery design is no longer lost in the English stately home below and above stairs and it is to be found gracing the most discerning folk's tables around the world. Particularly popular in America, Hunslet is a first choice when trying to impress at dinner parties. Take a browse through the extensive collection of dinnerware including the Hunslet Salad Plate which is a useful mid course size. The Hunslet Soup Plate placed on top of the Hunslet Dinner Plate also makes for a very elegant display.
From a designer and consultant's point of view life could not be easier as Hunslet's light pastel cream colour falls in with any background. This is one of the reasons why it is popular with so many design houses- they can choose to leave the crockery until the end knowing that whatever colour scheme or fabric design they might choose it will coordinate with the tableware.
Hunslet is not cheap so a level of exclusivity is bound to follow but this does not mean that a collection cannot be started at smaller amounts eventually building up to the required level. There are plenty of customers owning a large dinner party collection and many with just enough for two settings. Introduce some class to your dinner table today, you won't look back.