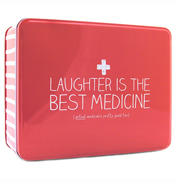 'Laughter is the Best Medicine' Rectangular Storage Tin
£9.99
Discover the world of Happy Jackson Giftware Tins
It doesn't get much better than this! Here you will find the fun, quirky products from Happy Jackson. Here at WWSM we love these bright, bold designs with hilarious inscriptions.
Perhaps the most popular item on this shelf is the Random Crap Storage Tin - treat yourself to this tin and have a good de-clutter, everybody has random crap that needs a new home!
These fun designs are sure to put a smile on anyone's face if you're looking for a gift for someone special. We can't think of a better gift for Dad than the Touch My Tools and Die Tool Box! The Yay! Biscuits! Biscuit Barrel is perfect for any biscuit lover.
The Happy Jackson designs are simple yet provide fun, clever storage solutions!