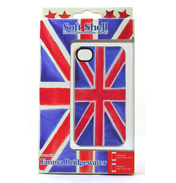 Union Jack Soft Shell iPhone Cover
£3.99
Fly your flag every day at home with Emma Bridgewater's Union Jack Range. Based on the Great Britain flag this cheerful pattern is sure to brighten up your home. This design is a particularly tricky pattern to sponge on so you know for every piece owned a lot of care and attention has been applied to get the wonderful end result. Use on its own or mix with the Starry Skies pattern to create a unique, colourful dinner service.
Patriotic displays aside – it is a mark of genius that Emma Bridgewater's design team are be able to bring this iconic image so bang up to date – whoever thought the union jack would become such a funky, retro, and well loved design. Use the union jack teapot as a marvellous centrepiece in your kitchen to create a real talking point and design statement.
Gloriously British, representing all that is the UK, it's very apt that the pottery born and bred in the heart of the United Kingdom waves this flag so proudly and reminds us of how thrilled we are that all this pottery is hand made in England.
The union jack has a long and complex history – symbolising both the union of different countries and growth of a family of nations. Not only the national flag of the United Kingdom of Great Britain and Northern Ireland, it has a far reaching influence and it is still seen today incorporated into some other commonwealth countries such as Australia. It is one of world's oldest national flags and incorporates 3 flags in its design. The St George's cross of England – a red cross on white background, the St Andrew's cross of Scotland – a white diagonal line on blue background and St Patricks cross – a red diagonal line on a white background. Look at the Emma Bridgewater union jack pattern carefully and you will be able to pull out all these 3 elements.
Back in 1606 when King James VI of Scotland became king of England (King James I) there was an early version of the flag – which was basically just a combination of the England and Scottish flags, where two realms became one in the form of a union flag. Of course this early design was ripe with controversy – some thought the English cross too vivid on top of the Scottish cross – so rather than bring the nations together it had rather the opposite affect. As such it was really only used at sea until the two kingdoms were united in 1707. Today it is still considered to be a maritime flag and it is thought that the 'jack' element came from its use at the sea bow end of a ship – from the jack staff.
In 1801 with the union of Ireland and GB the Irish element needed to be represented, hence the introduction of their flag in the design. Approved by parliament in 1908 this combined flag design became official and made the national flag - the one we all know and love today.
Raise an Emma Bridgewater Union Jack Mug in honour of all things red, white and blue! Fly your Emma Bridgewater Union Jack Tea Towel on flag days and royal occasions such as weddings – where you can be seen to be truly drying your pots with style! Shop with the Emma Bridgewater Union Jack Truly Great jute bag and show you're proud to support all things British!