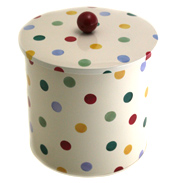 Biscuit Barrel
£13.99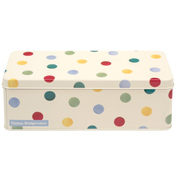 Long Deep Rectangular Storage Tin
£10.99
Pink Hearts Set of 4 Snack Tubs
£9.95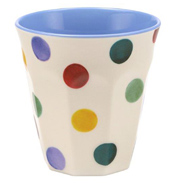 Polka Dot 2 Tone Melamine Beaker
£7.99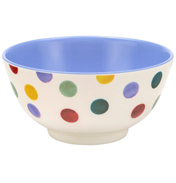 Polka Dot 2 Tone Melamine Bowl
£9.99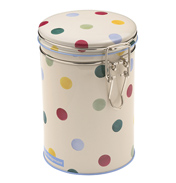 Polka Dot Caddy with Clip Lid
£11.30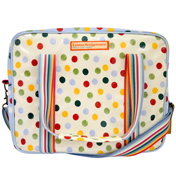 Polka Dot Cool Bag
£29.80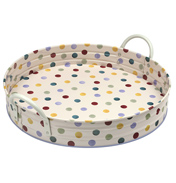 Polka Dot Large Round Tray with Handles
£24.99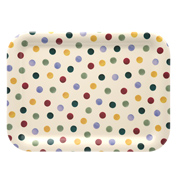 Polka Dot Medium Melamine Tray
£13.90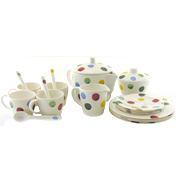 Polka Dot Melamine Children's Tea Set
£32.30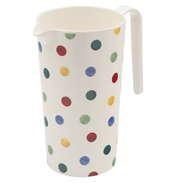 Polka Dot Melamine Large Jug
£16.99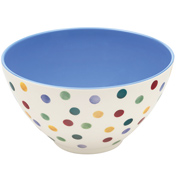 Polka Dot Melamine Large Salad Bowl
£18.90
To enhance the Emma Bridgewater pottery and fabric range there is now an exclusive practical Tin Ware range of Boxes, Biscuit Barrels, Caddies, Cake Tins, Containers and Trays made from hand pressed tinned steel. This stylish range is of course offered in Emma Bridgewater's most popular patterns:
Cheery multi-coloured Polka Dot
Country kitchen pink Sampler
The elegant cream background and black text of Black Toast
Pretty and lovely Pink Hearts
Modern Starry Skies in Red, Blue and a smattering of Cream plus BIG Love
Patriotic red, white and blue Union Jack flag
Bright and colourful garden Flowers
Flocks of beautifully illustrated Birds by Matthew Rice
Cute pink Dancing Mice which is perfect for little girls
Men at Work for little boys with tractors, cars and trucks
The Boxes tin range has every shape to suit the occasion including round, square, and heart. Take a look too at the Set of 3 mini paper suitcases which make great storage and are useful for carrying things on the move. Store home baked goodies, or shop bought treats in the tin Biscuit Barrel or rectangular or round Cake Tins. They are also an excellent way of storing bits and bobs, kid's toys - such as pens and pencils or office essentials.

The Tin Round Caddy or Tall Round Caddy are a stylish way to store tea, coffee or other kitchen store cupboard items and Tin Trays are ever so useful for fetching and carrying, as well as eating TV dinners off.
So bring your kitchen decor alive with this Emma Bridgewater, pottery complementing, selection of useful boxes, containers and trays in useful Tin.