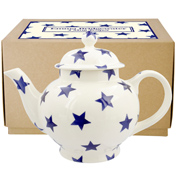 Blue Star 4 Mug Teapot
£49.99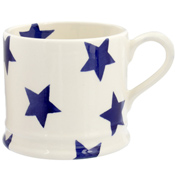 Blue Star Baby Mug
£14.95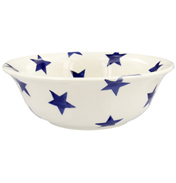 Blue Star Cereal Bowl
£19.95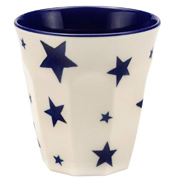 Starry Skies 2 Tone Melamine Beaker
£7.99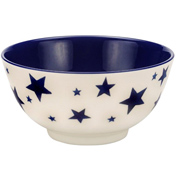 Starry Skies 2 Tone Melamine Bowl
£9.99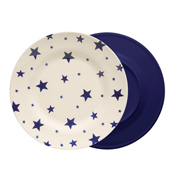 Starry Skies 2 Tone Melamine Plate
£9.40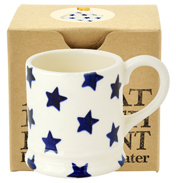 Tiny Mug Tree Decoration
£9.25
SPECIAL OFFER
Oscar Wilde famously said 'We are all in the gutter, but some of us are looking at the stars', well you can look at them every day with this bold exciting design, Emma Bridgewater's Starry Skies.
The design is simple but bold, it has glamorous star quality and star power. Its bright royal blue five pointed stars are on a plain cream background, some big, some small and all of them are painstakingly hand sponged on to get a lovely mottled finish to the colour. Of course this makes each piece completely unique so make your dining table sparkle and choose this dinner service for your collection.
As a stand alone set it looks classy but you can mix and match with other Bridgewater designs to bring a whole new element and look to your dinner party. In particular it works particularly well with the Union Jack range for a truly patriotic spread. And if you just want to bring a smattering of this design into your kitchen start with some key pieces such as the Starry Skies Butter Dish, Sugar Pot or Jug.
Stars invoke a magical feeling so use the set in full to bring your table settings alive for a star studded dinner event! Navigate your way through the dinner table with the stars starting with mains on a pasta bowl through to dessert in a Starry Skies French bowl. The melamine range too is perfect for outdoor living or for youngsters not yet to be trusted with mum's best pots.
Part of the collection includes Big Love – a slightly different take on Starry Skies where it's basically in reverse – cream stars on blue rather than the other way around with Big Love or Lots of Love written all over it – take a look at the Big Love Cocoa Mug for example. A smidgen of red Big love is available too to bring an energetic flash of colour into the range which ties in very nicely with one of the newer designs called Red Star which is fast turning into a favourite in fact you may say it's a rising star!
Kit our your son's bachelor pad or use this range for gifts – the design is a great idea for someone who's just achieved a goal – a perfect way of saying 'you're a star', try the Red Star Plate and Half Pint Mug.
In fact we are sure if you read your stars it will say this is the collection for you! So wish upon a star and see if you can make it happen – go on shoot for the stars!!! Now have we included enough starry puns for you or do you want more?