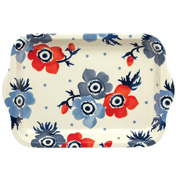 Anemone Small Melamine Tray
£7.99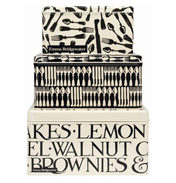 Black Toast and Knives & Forks Set of 3 Square Cake Tins
£29.99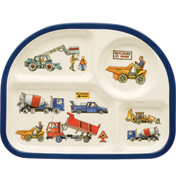 Builders At Work Melamine Eating Tray
£8.99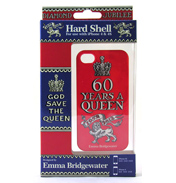 Diamond Jubilee Hard Shell iPhone Cover
£3.55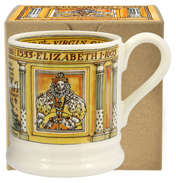 Elizabeth I ½ Pint Mug
£17.99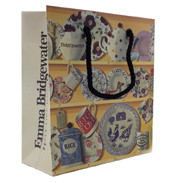 Emma Bridgewater Dresser Mini Gift Bag
£2.99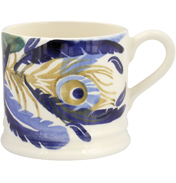 Feather Wreath Small Mug
£14.95
Glasses Cases Assorted
£6.99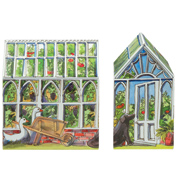 Green House Tin
£8.99
Hen House Tin
£8.99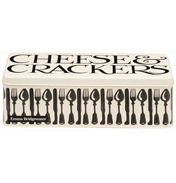 Knives & Forks Deep Rectangular Storage Tin
£9.99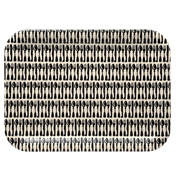 Knives & Forks Medium Melamine Tray
£13.99
This area of the website is dedicated to designs Emma Bridgewater produces for special occasions, significant events and dates. It means the design team can create seasonal runs of pottery so watch out for regular updates and don't miss out as sometimes these ones are produced on short runs so will disappear as soon as all the stock has sold. Predominantly the specials are limited to mugs, however occasionally for a major event such as the Royal Wedding other pieces are included. As for all Emma Bridgewater mugs a light touch and keen eye is needed to produce them and more than 30 people are involved in making each one, making them true masterpieces.
A special range would not be special without inclusion of one of the biggest and most exciting events of 2011 – the Royal Wedding of course. It's easy to dismiss Royalty memorabilia as being naff but not when Emma Bridgewater gets involved – these pieces are incredibly tasteful, quite unlike most other commemorative pottery. Well we wouldn't expect anything less of course! Combine with Union Jack for a truly British celebration. A souvenir plate, bowl, 2 different mugs and tea towel are available in this design. Elegant crowns, hearts, illustrations of Westminster Abbey, and coats of arms are featured in red, black, creams and golds. The more complex designs using the transfer print technique to get across the intricate detail not possible through sponging alone. A sponge pattern mug is also available which features the initials W & C, and uniquely has helicopters around its base to reflect Prince William's duties as an RAF Search & Rescue Pilot. The mug collection also extends to significant Royal Buildings such as Buckingham place (the London Home of the British Monarch), Hampton Court (a favourite palace of King Henry VIII), St James palace (considered to be the most senior palace), and Westminster abbey steeped in thousands of years of history and of course is the location for the upcoming Royal Nuptials of Prince William and Catherine (Kate) Middleton which will take place at Westminster Abbey 29th April 2011.
Prince William (or to give him his full name William Arthur Phillip Louis of Wales) is the son of the late Princess Diana and Prince Charles. He was born on the 21 June 1982 in St Mary's Hospital, and is second in line to the United Kingdom crown, as William will succeed his father to the throne. The Archbishop of Canterbury christened Prince William at Buckingham Palace, and he spent much of his early childhood at Kensington Palace London. Prince William gained twelve GCSEs and three A-Levels during his education at independent schools around London. He chose the University of St Andrews in Scotland for his pursuance of a degree where he gained a Scottish Master of Arts degree along with an upper second class honours in Geography. St Andrews is also where, he met his now fiancée, Kate Middleton who was studying for her degree in art history.
The royal couple became engaged in October of 2010 whilst holidaying in Kenya, the engagement ring was the one that Charles, his father, gave his mother Diana. Famously, and very recognisable, it has fourteen diamonds with one large sapphire made from 18 carat gold. Elizabeth II the Queen of England and Prince William's grandmother expressed her joy as to the engagement of the couple as did the rest of the British public. Celebrate with them and own, cherish and love Emma Bridgewater's Royal Wedding pattern.
Another special event included is Easter with the Easter chick egg cups and mugs. Children get so much chocolate these days it makes a lovely change to give them something different – you could of course combine a chocolate egg and egg cup as a memorable Easter gift.
For Halloween and bonfire night there are Emma Bridgewater's Polka Bats and Polka Pumpkins – which is also very apt for autumn – greens, reds, blues, and yellows are the colours used which you will recognise for polka patterns used elsewhere. The pumpkin baby or half pint mug has a smiley or grizzly face depending on which way you choose to look at it!
Other special occasions celebrated include Valentines Day with the Love all over mug where large red Matthew text is all over the mug. Mother's day, end of term teacher mugs and Silver Toast with platinum text for weddings, christenings and special anniversaries.
St Patrick's Day is celebrated with the Shamrock mug, a three leaved clover being a well known symbol of Ireland. The Saltire mug is for St Andrew's cross, a diagonal cross used on flag of Scotland and St George's day is also celebrated with its own mug