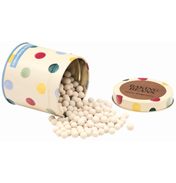 Baking Beans in a Tin
£9.99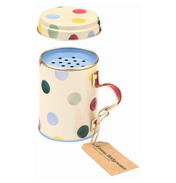 Baking Duster
£7.99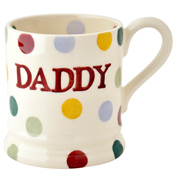 Daddy 1/2 Pint Mug
£16.99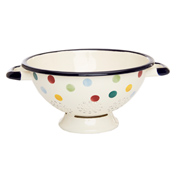 Polka Dot Enamel Colander
£34.99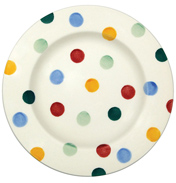 Polka Dot Plates
£12.99
Polka Dot Serving Bowl
£49.99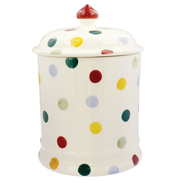 Polka Dot Two Pint Storage Jar
£33.99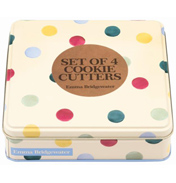 Set of 4 Cookie Cutters in a Tin
£10.99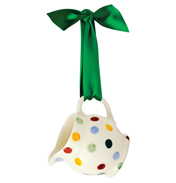 Tiny Jug Decoration
£14.99
When there are such lovely patterns to choose from it is often quite difficult to know where to start choosing a piece that's perfect for you and this is particularly hard when starting a new collection from scratch. Here's a quick guide to help you make sure you select the best of the best using the Polka Dot range as a starting point.
Firstly consider the room it is going into. For a kitchen it's a little easier to select the right pieces, however if you are considering putting some items into a room such as a lounge, dining room or bedroom perhaps a little more careful selection is required, particularly in a more formal room.
Once you have decided Emma Bridgewater is right for you have a look at your colour schemes already in place. Colour can impact from your walls, cupboards, surfaces, flooring, curtains or blinds and other soft furnishings. One you have worked out which colours you already have in place have a look at the different pattern ranges to see which one sits well with what you already have. If you need more help with this a colour wheel will help you decide what colours go with what. On a colour wheel complimentary colours are directly opposite whereas colours next to each other are harmonizing. You can use Emma Bridgewater's Polka Dot pottery to help bring out the brightest colours in your scheme and perhaps tie in with other accents in your room such as lamps, vases, or coloured glassware. If you have the luxury of being able to repaint some existing pieces of furniture you could also try bringing in a common colour used in the Bridgewater Polka Dot such as blue-green, yellow, red, powder blue or dark green to help bring the room together.
For more ideas look in magazines – both articles and adverts. It's amazing, for example, just how many kitchen companies use Emma Bridgewater earthenware in their displays and you know if it looks good in their advert there is a fair chance it will work for you too. Be careful though not to copy verbatim as you want to bring out elements of your own taste and personality to make the room feel as homely as possible. Involve family and friends for their opinions and suggestions – and if you have one friend with a real flare for design, trade your skills with them over a cup of coffee (using one of Emma Bridgwater cups and saucers of course!).
Ways in which Emma Bridgewater creamware can be used:
To bring attention to one piece of furniture – on a kitchen wall unit try displaying the Emma Bridgewater tea set including 4 Cup Teapot along with her Cow Creamer, Sugar Pot and Tea Cups
As a focal piece – try using the 6 pint jug and salad bowl at the end of your kitchen island unit
To compliment existing pieces of coloured glassware – try mixing her Polka Dot Plates with coloured glasses or vases
To distract the eye away from something you don't want people to focus on – choose a bright design and shape such as the polka dot hen nest
To bring to the forefront one of your accent colours – from a cushion or wall or piece of furniture –Polka dot pottery is bright and colourful and matches pretty much anything
To brighten up a dull side of the room with not much light use one of the Polka Dot Wall Clocks
Use in combination with mirrors – clever combinations can make you seem as if you have a lot more to your collection than you do – put a wall mirror opposite a shelf unit containing your mug display of baby mug, cocoa mug, ½ Pint Mug and a little will seem like a lot
To create floral displays – use the Emma Bridgewater Jug, or the Polka Dot Comport
Have fun creating your own unique piece of Emma Bridgewater heaven!