Four Melamine Surfaced Coasters
£11.99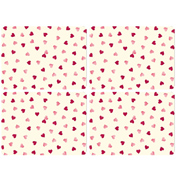 Four Melamine Surfaced Placemats
£26.99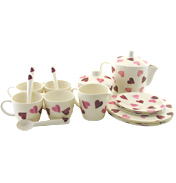 Melamine Children's Tea Set
£31.95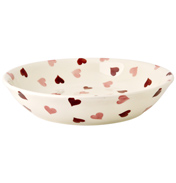 Pasta Bowl
£18.99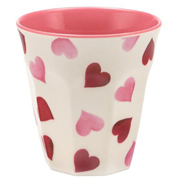 Pink Hearts 2 Tone Melamine Beaker
£8.99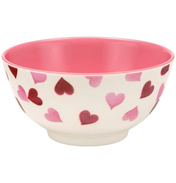 Pink Hearts 2 Tone Melamine Bowl
£9.99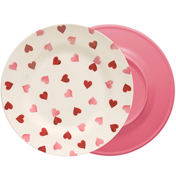 Pink Hearts 2 Tone Melamine Plate
£10.99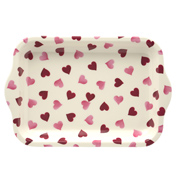 Pink Hearts Small Melamine Tray
£7.99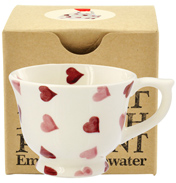 Tiny Teacup Tree Decoration
£14.99
Emma Bridgewater Pink Hearts has a sponge ware finish which is hand applied using a sponge. This technique originally dated back to the 18th and 19th century and was used to give a bright, cheerful effect to inexpensive domestic ware. In the USA this technique is sometimes also referred to as spatter ware.
The Sponge Hearts design is created by starting with a hand cut sponge in Emma Bridgewater's decorating studio, the patterns designed by Emma & Matthew (Emma's husband) are recreated in the sponge by using soldering ions – the type of sponge used determining the end result as the coarser the weave the better the pattern of holes. A colour is then applied to the piece of pottery by hand by sponging on specific areas (sometimes called sponge printing), giving a stippled, blurry, daubed colour finish, with some bits deep in colour, some bits pale and all shades in-between – making each piece totally unique with its own individual charm.
Back in the 19th century large quantities of spongeware were produced at that time however as it was for everyday use not much original pottery exists today. Now, similarities can be made with Emma Bridgewater's spongeware – she too creates much used and loved pottery and although her pottery is very robust, inevitably breakages do occur and if the design has been discontinued collectors try avidly to source replacements, some older Emma Bridgewater discontinued patterns fetching large sums at auction. Take heed from this story and start to collect her sponge ware pottery now, as they are likely to be real investments for the future.
Many of Emma Bridgewater's designs use this sponging technique, including the latest stipple pattern. Other designs use this method in conjunction with hand painted lettering, and transfer printing too – look at the latest commemorative Royal Wedding Collection. From design board to hand made production you know a lot of care and attention has gone into producing these lovely patterns.
Click on the Pink Hearts images to get a real feel for the sponging technique used – and for every piece created a lot of love has gone into producing it – spread this love by owning or passing on a handmade Emma Bridgewater Pink Hearts Mug or make a romantic meal for two in your Emma Bridgewater Pink Hearts Apron.
Of course this range truly lends itself to those romantic, loving moments in your life, and not just for Valentine's Day. What easier way is there of letting someone you know just how much you love them by gifting one of these fabulous pieces. And for once be a little selfish, let us not just think of others – imagine sitting down relaxing with a cup of hot chocolate in one of her pink hearts cocoa mugs - it will almost feel like a real cuddle! Go on you deserve it!