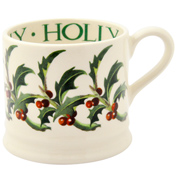 Holly Baby Mug
£14.95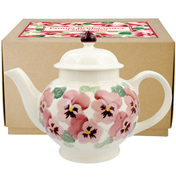 Pink Pansy 4 Mug Teapot
£37.00
SPECIAL OFFER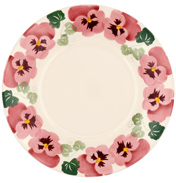 Pink Pansy 8½" Plate
£16.99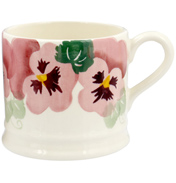 Pink Pansy Baby Mug
£13.99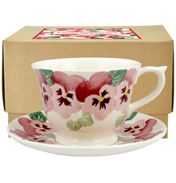 Pink Pansy Large Teacup & Saucer
£34.95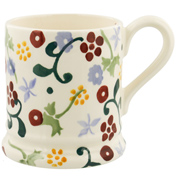 Spring Floral ½ Pint Mug
£19.95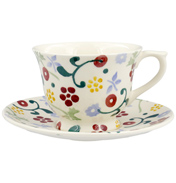 Spring Floral Small Teacup & Saucer
£29.95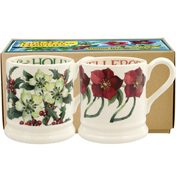 Winter Flowers Hellebore Set of Two ½ Pint Mugs
£39.95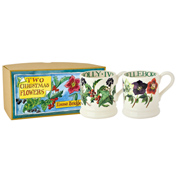 Winter Flowers Set of Two 1/2 Pint Mugs
£32.99
This range encompasses the massively popular Emma Bridgewater Flowers and also Winter Flowers collection. Beautiful and realistic designs all handmade in England.
From every sale of a Flowers Mug a donation is made to the National gardens scheme ('NGS') – gardens open for charity. One of the key ways which this charity normally raises funds is through their open garden scheme whereby the NGS publishes their yellow bible of gardens to visit. Most are privately owned and it is considered to be a real honour to have your own garden included with their guide. The gardens open just a few times a year and all funds raised are given directly to NGS who then donate to nursing, caring and gardening charities. Since Emma Bridgewater started this scheme they have helped to raise thousands of pounds towards worthy causes and if a national gardens scheme mug is purchased by yourself 5% of Emma Bridgewater's Flowers mug sale proceeds are donated direct. As the flower collection ever expands it is a great way of doing your bit for charity and at the same time owning a beautiful collection of pottery – help raise even more funds by adding new pieces to your collection as they are released. Plus as an added bonus, each one of these mugs has an inscription on the base about each of the flowers – so once your tea break is finished turn it over and have a read.
Everyone has favourite flower – see if your favourite is available and if not don't despair as this collection is constantly being updated. If Red flowers appeal look at the Tulip, Poppy, or Rose Mugs. If you are after a mixed bunch or a different way of sending a bouquet then choose ones with Flowers in the name, like the Flowers Four Cup Teapot– which has spring flowers Tulip, Daffodil, Snowdrop and Bluebell all on the one design.
A great idea for a gift is to find out the flower associated with the recipients birth month and see if you can find a match - January is a Snowdrop, February a Primrose (Auricula is a close match), March the Daffodil, April a Daisy, May is Lily of the Valley, June for Rose, July a Larkspur, August is the Poppy, September an Aster, October for Cosmos, November a Chrysanthemum and finally December is Holly. Not all of these are available at the moment but most are.
Send a hidden message with a flower – did you know the Language of Flowers evolved during the conservative Victoria era where it was not considered appropriate to openly display affection or love. This resulted in messages being assigned to particular flowers so that a hidden message could be conveyed. The Daisy for innocence and beauty, Daffodil for unrequited love, Red Poppy for pleasure, Tulip as a declaration of love, the Orange Lily for desire and Snowdrop for hope to name but a few! If you're not into open displays of affection have a go at trying to convey your message in this unique way!