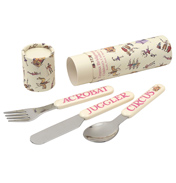 Circus Cutlery Set in a Tube
£11.99
Pottersaurus Money Box
£7.44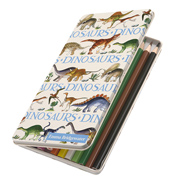 Pottersaurus Pencils in a Tin
£6.99
The Emma Bridgewater Children's pottery range encompasses 2 main designs – Dancing Mice and Men at Work. Whether you have a little or big girl or boy – they are sure to be delighted with a gift from one of these sets with everything you need to eat at the table, outdoors and at school.
Men Might be at work and that's why little ones want to join in and feel part of the workers brigade. On the other hand what's all work and no play? The dancing mice are always at play and are sure to bring smiles in abundance.
If they are into diggers, trucks, tractors, cars or lorries (what boy or tomboy isn't we ask?) the Men at Work Set is the one for you. The truck and lorry are green, the digger is obviously yellow and the tractor bright red and the pieces are finished off with Matthew Rice's blue lettering.
The Dancing Mouse design has Mr and Mrs Mouse dressed to impress and dancing the night away at their very own ball with the lady mice in flowing dresses and the men mice cut dashing figures in their formal tails (pardon the pun!). With colours of pink, blue, pale reds and yellow this classic design is sure to delight. Pointed outstretched toes also make you imagine they are elegant ballerinas swirling across a stage. Although designed to appeal to little girls – we wouldn't rule out being used by boys too – one little boy we know refused point blank to have anything else! Whilst we call this a Children's range - the designs work well with all age groups - old and young. It would be foolish to limit this range to just children – granddads or older car enthusiasts might like one of the men at work mugs for their shed or garage. Or take Dad back to his youth and bring out his inner child with the Men at Work bowl for his cereal on a morning. One dad we know still uses his christening mug to this very day! And for us ladies – those dancing mice are just the cutest and bring out the little girl in you – in fact we get a little jealous when we're not the ones using them.
Matching cups work well too for old and young with the choice between baby mug and ½ pint mug – they too can be just like mummy or daddy.
This pottery is ideal for birthday gifts or for christenings and special occasions or even just for everyday. Try mixing Dancing Mice with Pink Hearts or use for a little girls tea party where there are sure to be squeals of delight.
If you are worried about breakages – Emma Bridgewater has cleverly made the use of melamine, which is a hard form of plastic, resulting in the design becoming ultra durable and not subject to damage in little hands. Try the Dancing mice melamine set or melamine beakers, or melamine men at work which are perfect for parties or for playing in the garden.
For breakfast time either choice will make a cheery start to any day. Plus if you have any faddy or slow eaters these designs may just do the trick – they will want to guzzle down their food to reveal the wonderful designs beneath.