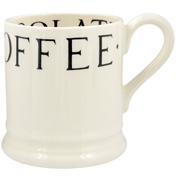 ½ Pint Mug
£19.95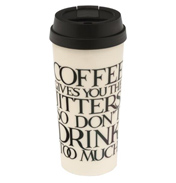 16oz Thermal Cup
£10.99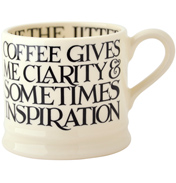 All Over Baby Mug
£13.99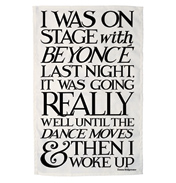 Beyonce Tea Towel
£9.99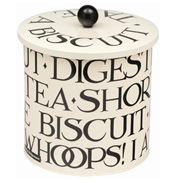 Biscuit Barrel
£13.99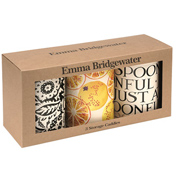 Black Toast & Marmalade Set of 3 Caddies
£17.48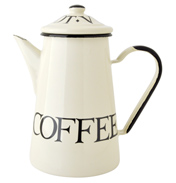 Black Toast 1 Litre Coffee Pot
£45.26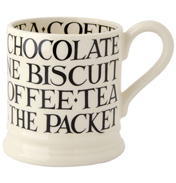 Black Toast All Over Writing 1/2 Pint Mug
£16.99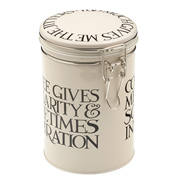 Black Toast Caddy with Clip Lid
£10.55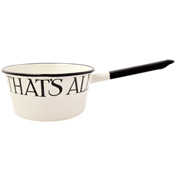 Black Toast Enamel 16cm Saucepan
£19.40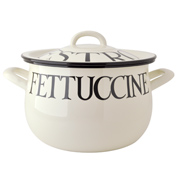 Black Toast Enamel Casserole Pot
£39.99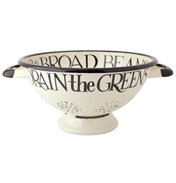 Black Toast Enamel Colander
£33.50
The Emma Bridgewater Black Toast range or to give it its full title Black Toast and Marmalade is arguably one of their most popular. The best selling pattern is based on the artwork of Emma's husband Matthew Rice and is smart and playful as well as timeless and suited to both modern and traditional interiors. Matthew paints, writes and enthuses about architecture having a number of best selling designs and books under his belt.
This pattern is a key example of where they have used transfers as a means of applying the design to the pottery. As you can see the classic design of Black Toast Pottery has hard lines and very bold, clean black text on a plain creamware base which does not lend itself well to other techniques such as sponging. To incorporate this very popular design into their range a technique of litho decorating is used. Firstly the design process starts with Matthew coming up with a detailed design suitable for creating the lithograph print. This method of production ensures that any complicated details on the design are as fresh as the original drawing. This is then used to create the individual design transfer – one is needed for each particular piece of pottery in the range. The transfers are made in Stoke also. This design transfer is then transferred to a special type of paper which can be hand applied to the glazed pottery in-between firings. Lithographing is the process of applying the print to the individual piece. The second firing with the transfer makes the image permanent and hardwearing.
The beauty of a lithographic print is that it can also be applied in the production of fabrics and other mediums such as tin, for instance the design has been adapted to textiles on the Black Toast Apron and Jute Bag.
Browse this shelf to buy Black Toast Online. Popular pieces include the Emma Bridgewater Dinnerware including Black Toast Plates, Butter Dish, Hen and Dog Bowl.
Other popular choices of litho decoration include Emma Bridgewater's British Birds, Dancing Mice and Men at Play. Other ranges are a mixture of both Litho transfers and sponging – look at the Royal Wedding 2011 pieces – Matthew's design skills at their best used in combination with the ultimate in handmade care and attention.
As you can see with this process of decoration alone there are a lot of people involved along the way which ends up with the pot on your table looking as good as it does – Emma Bridgewater pottery is truly handmade in the UK and this fact is one to be celebrated!