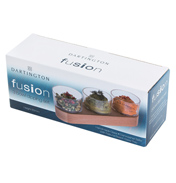 Fusion 3 Bowl Dipping Set
£31.99
Fusion Large Bowl
£25.74
SPECIAL OFFER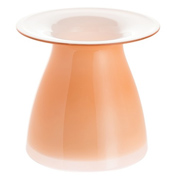 Juno Peach Short Vase
£21.99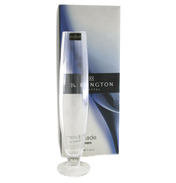 Medium Vase Clear - Stem
£11.99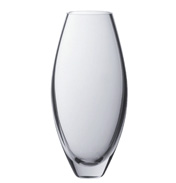 Opus Large Oval Vase
£60.48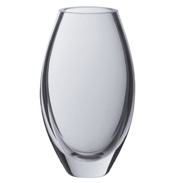 Opus Medium Oval Vase
£55.35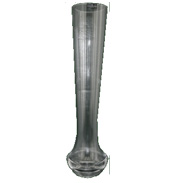 Tall Stem Vase - Devon Clear
£29.99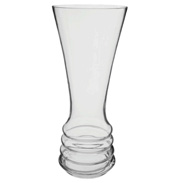 Wibble Large Vase
£31.00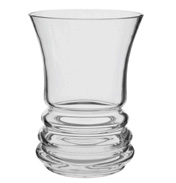 Wibble Wide Vase
£17.00
A very useful array of Dartington Bowls and Vases can be found in this location. Both vessels are important collection pieces and if you stop to think about it there are so many uses for these items.
Taking the simple bowl – a Dartington masterpiece in creation. The uses for this everyday item are enormous – whether culinary, serving or decorative. Each piece lovingly created to such high standards of workmanship. Looking at the food side of bowls Dartington have it covered, from salad bowls through to small serving bowls such as the Fortuna Individual Bowls, and talking of Fortuna the Fortuna dessert bowl is very nice indeed – use it for a trifle where the clear sides mean you can really experiment with your design and see each layer to make a truly stunning centrepiece for your buffet or dinner party. Such a large bowl can also be used as a punch bowl.
Looking at home décor Crystal Bowls have many uses – try them as a base to hold oasis and a small floral display such as roses, or choose a larger shallow or deep bowl fill with water and then gently lay some flowers such as daisies or carnations to create a floating arrangement. If the bowl is quite deep try a single orchid head curled around the globe of the bowl perhaps with a thin wispy leaf – a simple yet very effective floral display. The beauty of the Dartington glass will shine through enhancing all of your arrangements. Another idea is to lay a few tea lights in the base of a bowl and light for a romantic table display. And of course what's a bowl without pot Pourri too! One of the more ornamental pieces can be used as a stand alone piece without the need for any additions – let these pieces speak entirely for themselves, so let their inner beauty shine through. With the wide, varied choice available you are sure to find something which suits your style and home.
Looking next at the vase – each Dartington vase generally has something special about it. So expertly designed to consider all aspects – including functionality and looks. For decorative use group different shapes, sizes and colours together for an eclectic mix to add a real sense of personality to your home – today there is a tendency for our rooms to look like they have just stepped out of a department store but by clever use of multiple pieces of glassware a small change can speak volumes. Mix new Dartington vases in with car boot finds or 20th century glassware to give a real individuality to your home. Dartington's Flower Bottle collection in vibrant, jewel like colours lends itself perfectly to this cause. An exciting and effective use of these beautiful glassware items. Start off with a beautiful vase and a beautiful flower display will follow.
The Dartington Crystal Opus vase range has a simple beauty with smooth lines and is quite contemporary in design. Sometimes all that is needed is a clear-cut pattern. Over embellishment can often detract from that which you are trying to emphasise. This range provides that simplicity is beautiful enough on its own, and combined with the blaze of colour of a floral display this can set the ambience alight.
Dartington's Henna crystal range uses a clever technique in production where a henna coloured spot in the base of the piece is drawn up through to the rim. This colour shift has the effect of the tint pervading through the perimeter giving a unique and stunning appearance. The Henna range is another example of the Dartington Glassmakers ability to bring glass alive in design. View the Henna Posy Vase or the Henna Trail Large Bowl.
Mentioning briefly also three newer ranges – Curve vases have a gorgeous curved shape yet the best feature is the way the neck of the vase has been cut away and hand polished, making them statement pieces in their own right. Next the Dartington Wing Collection is distinct from the rest as the glass has been finished with an optic effect which almost makes it shimmer and sparkle – giving it a very glamorous dimension. Finally Dartington's Wibble has a 'fat' grooved design to the base which makes them quite unusual and this is particularly suited to bowls and vases.
Watch out for the intricately designed Dartington Spark range. It has a unique design with a glass spiral scroll encompassing the body of each piece. The Spark Bowls and Dishes are really lovely – the Spark Large Bowl is definitely worth a look at and makes a great fruit bowl as is the Spark Large Vase which is perfect for displaying a simple bunch of flowers. The glass trail spiraling around the base has been carefully applied by hand. Each one a tiny bit different which adds to the charm.
You will also find Blaze here in a stunning rich red colour and modern shape. Red continues to be a strong trendsetter as an interior accent colour and these pieces pick up on the vibe.
From the everyday item through to best use you will find it all here. From traditional through to ultra contemporary then look no further.