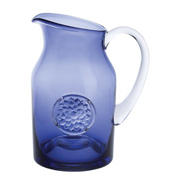 Amethyst Large Flower Jug
£32.99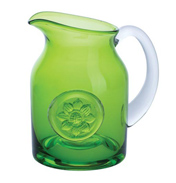 Anemone Small Flower Jug
£25.99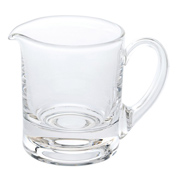 Circle Barware Small Water Jug
£14.16
SPECIAL OFFER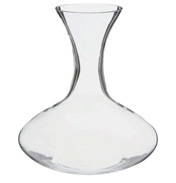 Wine Debut Carafe
£16.40
Here you will find lots of useful Jugs and Carafes by Dartington.
A Carafe is basically a decanter without a stopper, much more relaxed in style and as such more suitable for less formal occasions. Traditionally they are used for serving red wine – particularly in restaurants and many are used abroad which makes us think of relaxed holiday times– however they are much used in the home to decant red wine thus allowing the sediment to fall and allowing the wine to breathe. For still red wines most will benefit from a little airing – try young reds or older reds – even half an hour can make a massive difference. Plus if the wine is not too expensive (i.e. you'd rather not display the bottle) they make perfect vessels for the table. They can of course be used for white wine too, but in these circumstances it is really just for show and will serve no improvement benefit.
Whereas the decanter is thought to be only for alcoholic beverages a carafe is for both alcoholic and non alcoholic. They generally have a wide bottom, narrow neck, and wide lip. Dartington have some lovely carafes available, try the Carafe & Up, or the H2O Carafe & Up and Tumbler which is a blue one designed principally for water – table or bedside.
If it's jugs you are after, big ones, small ones or even medium then Dartington has the solution. Dartington Crystal Jugs are designed to be used to hold liquids such as milk, cream, juice for the breakfast table or al fresco lunch, or water and are all handmade with a hand applied solid handle. This gives them a solid, weighty 'expensive' feel. The coolers range is particularly suitable for cold drinks. The Ice lip jug is ingenious, its design means the ice can be used to keep the drink cool yet doesn't splosh over into the glasses – allowing you to enjoy a chilled but ice free drink. Perfect for cocktails too – try using one to make something like Sangria. The punch jug is great for this traditional Spanish wine punch. For sangria all you need is an inexpensive bottle of red, sliced fruit such as oranges, lemons, apples or whatever you fancy really, honey, sugar or fruit juice to help sweeten the drink, a pinch of cinnamon spice, and small dash of brandy – some recipes also include lemonade and also LOTS of ice.
Another great idea is to use the Dartington Coolers Juice Jug to make a batch of traditional lemonade – it is so simple to make. Take 12 unwaxed lemons (zest and juice), 500ml of water and 850g of caster sugar – bring to boil in a pan, simmer for 15 minutes then take off the heat and leave to cool for an hour. Sieve and dilute this syrup with still water or even sparkling, serve on ice for a refreshing summer drink. The stock syrup can be stored in the fridge for a couple of weeks or even can be frozen.
One thing we must say though is don't rule out just using these Dartington Jugs as Jugs – use them as simple vases for flowers or just for display on a sideboard, cupboard or dresser. Equally beautiful used in this way.
Why have a just a jug when you can have a Crystal Jug. This internationally known company comes up with the classical goods again.