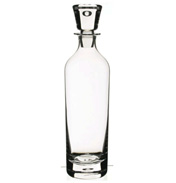 Decanter
£101.48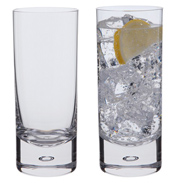 Highball Glasses (Pair)
£34.99
Exmoor is a timeless design which dates back to the late 1960's. This was an era when Frank Thrower was fully in charge at the helm of the Dartington design ship, and his creative spirit remains true to this day. The factory home at Torrington is very close to Exmoor so it is no surprise that one of Dartington's popular ranges has Exmoor as its namesake.
The glassware is all mouth blown crystal and this is evidenced by the small glass bubble trapped deep within the stems and bases of the design. It's remarkable to think how it is possible to capture such beauty time after time and just goes to show the skills required to become a master glassblower. The stemmed glass has a bowl which is quite goblet like in shape with a very thick stem. The Exmoor tumblers – Old Fashioned and Highball Glasses have a luxury weight feel to them and are very simple and elegant in design.
Exmoor itself is home to elements of rural, wilderness and moorland beauty. The stunning landscape being quite a rarity in southern England. It extends to nearly 700 square kilometres and is mainly moorland and coast. Its size means that it actually crosses both the counties of Devon and Somerset with just 29% being located in Devon. The stunning landscape led to the creation of the Exmoor National Park in 1954. It is also well know for its native Exmoor Pony and wild Red Deer.
As beautiful today as the day it was created, Dartington's Exmoor glasses range reminds us that excellent design will stand the test of time. Designers today aspire to try and capture this very essence in their own designs, ever hoping that they too will be privileged enough to share the same design heritage.
Choose this rugged stemware and heavy bottomed tumblers for their enduring appeal and add a little design history to your collection with Frank Thrower's Exmoor collection for Dartington.