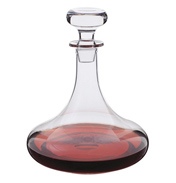 Admirals Decanter
£88.45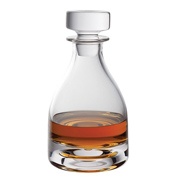 Circle Barware Spirit Decanter
£35.99
Director's Decanter
£91.23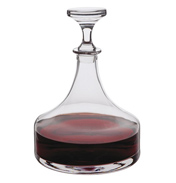 'Fortieth Anniversary' Ships Decanter
£89.99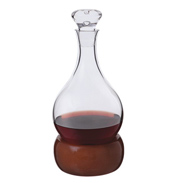 Hoggit Decanter
£99.99
Low Whisky Decanter
£79.99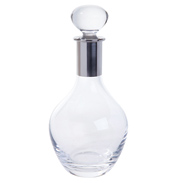 Origin Decanter
£39.99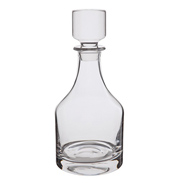 Spirit Decanter
£83.99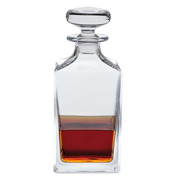 Square Spirit Decanter
£97.99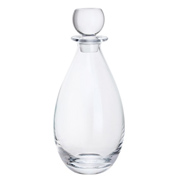 Tall Whisky Decanter
£89.99
Decanting wine is an age old technique and the Romans used a form of decantation with their amphorae. Dartington Crystal has some very elegant wine and spirit decanters to grace your home.
A decanter is basically a receptacle to hold a form of liquid, usually they are for wine – particularly red, however some spirits such as a single malt whiskey are also decanted and sometimes stored in a Tantalus, look at for instance the Dartington Square Spirit Decanter.
Whilst most wines we buy today have no need to be decanted due to modern fining and filtration methods, a young red, a wine which has been aged in the bottle, one with high tannin levels or one that is over 10 years old will probably benefit from this technique. Two key principles behind decantation are to improve aeration which may help soften a cheap or young wine and to help remove sediment or to allow sediment to drop. Bear in mind though not all wines should be decanted and for delicate wines or sparkling wines this would not be appropriate.
By using one of Dartington's glass decanters you will be able to smooth or mellow the wine, help to remove harshness and to promote the release of aroma compounds with a similar effect that swirling in a glass does. Each decanter is designed to hold a bottle of wine – plus a bit of breathing space. These wine decanters are typically made out of the finest glass which is inert and won't react to the liquid inside, they are clear so you can see the richness of colour and also if any sediment remains and a wider bottom means more wine is exposed to the air making for better aeration, and have a matching glass stopper specially matched to each decanter for fit. The clear lines and clarity of Dartington Crystal Decanters are the ideal compliment to the rich colours of the wines and liqueurs.
When decanting wine leave the bottle upright for a day or two to allow as much sediment as possible to fall to the bottom. Remove the whole of the capsule around the bottle neck and clean the bottle neck thoroughly. Remove the cork, ensure no pieces of cork remain, and clean the neck again, then begin to pour the wine into the decanter. This is not a job to be rushed so take care and keep viewing the neck of the bottle to watch for any sediment – stop when you get to this stage. This may mean some wine is left in the bottle at the end and this is perfect for use during cooking. If you prefer you can use a funnel with a strainer to help.
The Dartington wine decanters have been created for serving wines and spirits and keeping them at their best. The clear lines and elegant styles of this range are bound to inspire the most discerning and discriminating of hosts. They are great gifts for wine buffs, appreciators of fine wine and spirits, make perfect wedding, retirement or celebration gifts and look good too on display in your cabinet. They also make an elegant addition to your dinner table rather than having the wine bottle on display.
Choose one of Dartington Frank Thrower decanter designs such as the Dartington Exmoor decanter or the Sharon decanter and glasses. Other popular ones include the Crystal Admiral's Decanter and Director's Decanter.