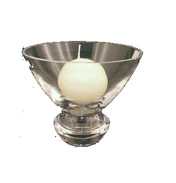 Candlebowl - Devon Clear
£29.99
What better way to appreciate the faint glow of candle flames than with Dartington Crystal Candlelight.
Finest glass and elegantly designed shapes are handmade in Devon where the wonderful range of Dartington candleholders is created. Choose between Hurricane lamps, candlesticks, and candle bowls. The beauty of the hurricane lamps are that the weak flame of the candle is protected from the breeze meaning they can be used outdoors as well as indoors during the warmer summer months, avoid frost of course.
These clear glass candle holders seem best displayed with simple cream or white coloured candles to let their beautiful display of light shine through. The flickering flames dancing off the reflective glass surfaces as the candles burn down.
Ideal for traditional as well as contemporary homes. Let Dartington light your way through the darkness of the winter months – there is nothing cosier than seeing candlelight when it's cold and damp outside.
We all know candlelight adds a certain ambience to table settings, use a couple of candlesticks for a romantic dinner – or for a table centrepiece group a few together – a mixture of shapes and sizes for a more eclectic feel. Or line up the lamps along the centre of the table with a single stem of a flower in a Dartington vase laid out alternatively between each candlestick. Allow the incandescent light to bounce off your walls and stimulate conversation.
Create a glow at a family barbeque and use the hurricane lamps as a table display outdoors – the glowing candles slowly taking over from the setting sun.
For interiors try one of the Appledore Tall Candlesticks either end of your mantelpiece, together with one of the smaller Appledore Candlestick holders for a classic display. Or what about setting some out on an empty grate or on the hearth and lighting the candles to create a focal point without the need for lighting a roaring fire. The blaze range also makes a wonderful, richly coloured addition to any interior.
Simple ideas with maximum impact. Strike a match, set the mood and sit back and enjoy Dartington's wonderful range of glass for candle light.