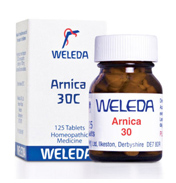 Arnica
£8.90
This company endorses a very individual approach to health care, aiming, to treat the whole person rather than just the symptoms of the illness, by stimulating the natural healing process. It's an approach that echoes the thinking of Samuel Hahnemann over 200 years ago when he established the principles of homeopathy.

Weleda products are packed in amber glass to protect them from light and the effects of the environment, and are hermetically sealed to ensure absolute product integrity. The foil seal offers customers complete protection and clear evidence that the pack has not been tampered with. As with all medicines, always read the label. On each product page you will find a highlight of the common ailment or symptoms that the homeopathic remedy is frequently used for, but is not fully comprehensive. In most cases the 6C potency should be used for self-help. It is most appropriate for conditions which are mainly physical, for example first aid situations or coughs and colds, Allium Cepa 6c for example. 6C remedies are ideal for the family medicine chest. The 30C potency can be used for conditions which affect our health more generally or illnesses which may be partly emotional in nature such as occasional sleeplessness, such as Chamomilla 30C. 30C remedies should be taken as a short 7 day course, unless prescribed by a practitioner. If a condition is at all persistent or could be serious please consult a registered homeopath or your doctor.

Wala medicines are also available from Weleda and these were developed by Dr Rudolf Hauschka in Switzerland in the late 1920's. Like Weleda, Wala use ingredients that are 100% natural. The plants are grown biodynamically using the strictest of organic growing methods and are designed to redress the balance and restore wellbeing. We stock the complete range of Weleda and Wala Homeopathic remedies. We have Arnica, Allium, Calc Phos, Drosera and Graphites to name but a few.