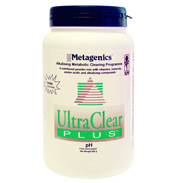 UltraClear
£39.30
Nutri Liver Support available from Body and Soul at WWSM. Complete range of Nutri Liver Support products including Burdock and Milk Thistle, Liver Support, Prolive, Toxi Cleanse, Ultra Clear and many more below

Nutri provides comprehensive range of effective nutritional products. Nutri works together with the finest companies in nutrition, as a result you can access a wide range of products assembled to meet the needs of the modern lifestyle. The Nutri range provides specialist nutritional supplements. Many of these are innovative products, which are at the cutting edge of development.

Nutri Liver Support. The liver is an organ in human that plays a key role in metabolism and has a number of different functions. These include Drug detoxification and glycogen storage. It regulates and performs a wide variety of the bodies' biochemical reactions that require specialized tissue that is in the liver.

Nutri's Liver Support products provide extra nutritional support to liver, support each phase of the livers work and the metabolic clearing of the liver. Its does this by providing different vitamins and minerals that the liver either doesn't get at all or doesn't get enough of.