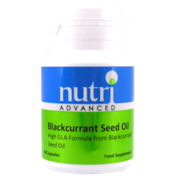 Blackcurrant Seed Oil
£6.99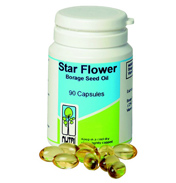 Star Flower
£8.88
SPECIAL OFFER
Nutri Fatty Acids available from Body and Soul at WWSM. Complete range of Nutri Fatty Acids products including Blackcurrant Seed Oil, EPA DHA Complex and many more

Nutri provides comprehensive range of effective nutritional products. Nutri works together with the finest companies in nutrition, as a result you can access a wide range of products assembled to meet the needs of the modern lifestyle. The Nutri range provides specialist nutritional supplements. Many of these are innovative products, which are at the cutting edge of development.

Nutri Fatty Acids. A fatty acid is an organic acid that is either saturated or unsaturated. They are produced by the hydrolysis of the ester linkages fat, and with the removal of glycerol. The human body can produce most fatty acids. However, there are two that cannot be made in the body. These are Linoleic and alpha-Linoleic acids. These can be found in plant and fish oils. Essential fatty acids are needed in many important body systems, including the immune system and in the regulation of blood pressure.

Nutri Fatty Acids products provide the body with several different fatty acids which are used in many of the systems in the body. Including Linoleic and alpha-Linoleic acids.