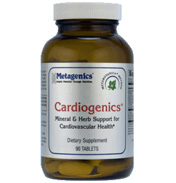 Cardiogenics
£23.76
Nutri Cardiovascular Support available from Body and Soul at WWSM. Complete range of Nutri Cardiovascular Support products including Cardi E, Cholarest SC, CoQ10, Ginkgo rose Niacinol and many more.
Nutri provides comprehensive range of effective nutritional products. Nutri works together with the finest companies in nutrition, as a result you can access a wide range of products assembled to meet the needs of the modern lifestyle. The Nutri range provides specialist nutritional supplements. Many of these are innovative products, which are at the cutting edge of development.
Nutri Cardiovascular Support. A circulatory system or Cardiovascular system is an organ system that moves substances to and from cells; it can helps to stabilize the body temperature. The main components of this system are the heart, blood and blood vessels. The main process is pushing oxygenated blood through arteries in the body, then getting the deoxygenated blood back through veins to the heart.
With Nutri's Range of Cardiovascular Support it can give an aid in supporting the heart and lungs. These products can also give added support to urinary and joint health.