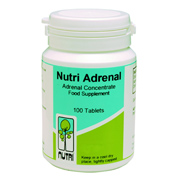 Adrenal
£15.99
Nutri Adrenal Support available from Body and Soul at WWSM. Complete range of Nutri products including Adrenogen, Adreset, Nutri Adrenal and many more.

Nutri provides comprehensive range of effective nutritional products. Nutri works together with the finest companies in nutrition, as a result you can access a wide range of products assembled to meet the needs of the modern lifestyle. The Nutri range provides specialist nutritional supplements. Many of these are innovative products, which are at the cutting edge of development.

Adrenal Support products from Nutri. Adrenal glands are positioned above the kidneys. These glands produce a variety of different hormones so they can regulate your Chemical balance and your Metabolism They create hormones such as adrenalin, Estrogen and Cortisol. If your body creates more or less than the required amount of hormones, Diseases may occur.

With Nutri Adrenal Support Products you can support the function of the glands with different combinations of high quality nutrients, which help in the regulation of hormones, a healthy response in your day-to-day challenges, keep healthy adrenal glands and immune function.