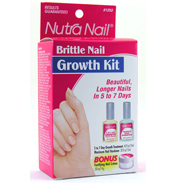 Growth Kit for Brittle Nails
£15.99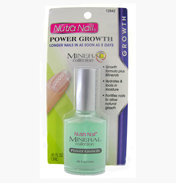 Mineral Collection Power Growth
£6.60
SPECIAL OFFER
Here you will find the massively popular range of products for simply beautiful, natural nails. From the USA this unique range of nail care products is available now in the UK. Their widely acclaimed range includes products for growth, strength, to harden, for base and top coats plus advanced formulas - all of which are formulated with unique cutting edge ingredients to benefit any nail type. This range is the icing on the cake and compliments our other false nail product selection which includes Broadway Nails.

If your nails are dull, lacking in moisture and don't bend very well – or if they break low down on the nail and it's difficult to get any length on them then your nails are described as 'short' or 'brittle'. If your nails 'peel' off in layers which leave the edges weakened, thin and prone to breaking – and they look dry then your nails may be described as 'dry' or 'peeling'. If your nails bend really easily, with little or no strength, tear during growth and have no resistance then your nails are 'soft' and 'weak'. Some nails of course can have a mixture of these issues and have multiple problems. Aged nails can be ridged, a little yellow, dull and slow to grow.

If any of these problems affect you then you are sure to find a product to suit, and for best results they advise you start with a Nutra Nail growth formula and then follow up with a strengthener or hardener. Visit the individual product pages to see which product best suits your individual needs. Choose between Super Growth for healthier nail growth, Bullet Proof Strength for stronger nails, Super Thick Nails for maximum strength, Super Tuff Nails for more breakage resistant nails, or Super Base Coat to help create a flawless base for your polish.

Nutra Nail is in the process of updating it's packaging to make choosing a product easier as each package will state what nail type it's for on the front – just perfect!