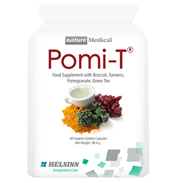 nature Medical Pomi-T
£17.90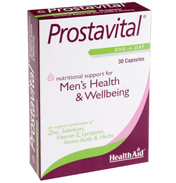 Prostavital
£11.99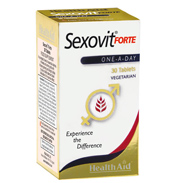 Sex-O-Vit
£14.70
We are not all the same and the differences between genders are now being recognised by food supplement manufacturers. Products are now available that are targeted specifically either for men or for women. Males are becoming increasingly aware of their health, which is a really positive step, as only a few decades ago many male related conditions were virtually unheard of, let alone discussed openly. A common concern for men includes prostate health. The prostrate gland is a small chestnut shaped gland close to the bladder and it can become painful (Prostatodynia), inflamed (Prostatitis), enlarged (Benign Prostatic Hyperplasia "BPH") or even cancerous (prostrate cancer). The herb Saw Palmetto is a well known treatment for prostrate problems, along with Pygeum africanum, the African Prune. With this in mind Healthaid have developed a specific product for the health of this gland called Prostavital. See also Prostrabrit which includes rye pollen, which has been shown in some studies to reduce prostate pain.

The male menopause may also be responsible for mood changes and sexual performance issues, the latter being something some men feel particularly uncomfortable about, particularly when having to discuss with their G.P for example. Sex performance problems can include the loss of libido and erectile dysfunction, which is the inability to get or maintain an erection. This can be due to a number of different reasons including stress, depression, age, weight or even could be the result of a biological issue. There are a number of natural alternatives available to help, including herbs which are known for their aphrodisiac qualities, all of which can be explored at home. These include ginseng, damiana, muira puama, maca and catuaba for instance, most of which can be found on this shelf.
If you are particularly affected by any of these issues we recommend discussing with either your Doctor or another qualified professional as they are there to help and won't be embarrassed by anything you have to tell them as they have probably been asked about the same problems many times before.