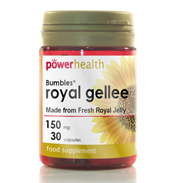 Bumbles Royal Gellee 150mg
£7.99
Royal Jelly 500mg
£19.50
Many of us have heard about this product however not many people know that it actually comes from the salivary glands of worker honey bees. Royal Jelly sometimes is called Royal Gellee, or even Royal Gellee or even sometimes royal gelatine but these are all the same thing!
The reason why royal jelly is considered so highly of is that it is a high concentrate food substance given to bee larvae very early on in their life cycle. From there on in one of the 'chosen larva' receives a regular source of this food and this larva is set to become the queen bee, all the rest of the larvae have to rough it on honey for instance! The queen bee rapidly develops into a massive bee after being fed on all this nutritious royal Gellee, and what's more they live longer.
Don't confuse this one with Propolis however which is something completely different. This product contains, amongst other things, Vitamins A, B5, other B vitamins, C, D and E, essential fatty acids, amino acids, minerals and royalisin so it's no wonder that so many people are interested in this product for its health benefits. We stock a complete range of Royal Jelly Bee Supplements including the Power Health Bumbles Royal Gellee range. See also the range of Health Aid Royal Jelly products, on the natural skincare shelf.