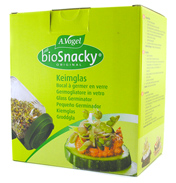 BioSnacky Germinator Jar
£2.42
BioSnacky Kelpamare
£5.99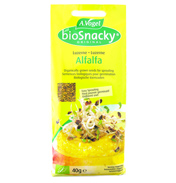 BioSnacky Seeds
£2.80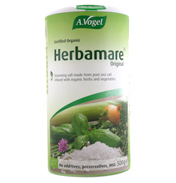 Herbamare
£7.99
So, What is BioSnacky?
The original Biosnacky range of seeds for sprouting includes Germinators, Seeds and Starter Kits. Seed packs include Alfalfa, Broccoli, Detox Mix, Fitness Mix, Gourmet Mix and many more. When we talk about sprouts we're not talking about the Brussel variety! A sprout is basically just the in between stage of a seed becoming a plant. And if you stop to think about it, a sprout possesses all the energy, goodness and power that enables it to be transformed from a small seed to a big strong plant. It contains all the nutrients for the baby plant to grow for the first few days before it can feed itself. It is no wonder then that this is the best possible stage of the plant for us to consume, as the nutritional value is at its highest.
Sprouts are grown in the germinators or mini greenhouses and the best results come from using Biosnacky seeds which are GM free, non-irradiated and organic and have a better chance of germinating. You don't need to be good at gardening as the process is very simple - just rinse, soak, rinse, soak and watch them grow! You'll have a mini organic garden in the corner of your kitchen in no time. Eating sprouts may be a new concept to you, but the benefits speak for themselves. Once you've tried your first sprout, we're sure you will agree that they taste delicious and it won't be long before you're hooked on trying all of the different types of sprouting seed.
Also visit this shelf for Bioforce's Herbamare a salt substitute, Kelpamare and Plantaforce.