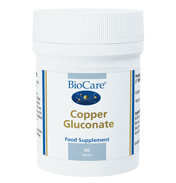 Copper Gluconate
£10.99
Modern lifestyles, poor diet, and environmental pressures can increase our requirements for trace minerals. Biocare minerals such as Calcium, Copper, Magnesium, Iron, Potassium, Selenium and Zinc are available in either tablet, vegetable capsule or liquid format depending on the preference and are all suitable for vegetarians with many also being suitable for vegans. They also have a couple of mixed mineral complex products available which may be useful for those individuals with a general poor mineral status.

The very popular range of liquid minerals provides a simple method of supplementing the diet with readily absorbable natural minerals. They are ideally suited for individuals that have difficulty absorbing minerals from the diet and are formulated with the intolerant individual in mind. Simply add to milk, juice or water. Some may be used sublingually (under the tongue) with a little water. The range is guaranteed free from yeast, sugar, gluten and colourings.

Biocare is renowned for the quality of its nutritional supplements and is the first choice amongst nutritional practitioners.