Door Hanger
£4.78
SPECIAL OFFER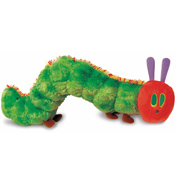 Large Very Hungry Caterpillar
£14.50
The Very Hungry Caterpillar Book
£6.84
The Very Hungry Caterpillar Finger Puppet Book
£7.44
The World of Eric Carle Large Baby Toy Elephant
£21.99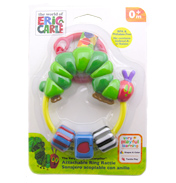 Very Hungry Caterpillar Attachable Ring Rattle
£8.99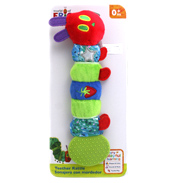 Very Hungry Caterpillar Teether Rattle
£10.99
Very Hungry Caterpillar Wooden Dominos
£10.50
Wooden Alphabet Blocks
£15.90
Welcome to our Very Hungry Caterpillar shelf here at World Wide Shopping Mall! Here you will find an assortment of fabulous products from the popular children's book by Eric Carle.

The story is of a caterpillar, from the egg right through to transformation. It begins when the Very Hungry Caterpillar is just a tiny egg, hatching out into the big wild world. To grow big and strong he has to eat lots of food, and every day he tries something new. One day it's an apple, then a pear, a plumb, strawberries and even chocolate ice cream!

After a long week of nibbling food he forms into a cocoon, until one day he emerges and has transformed into a beautiful butterfly.

The story was published back in 1969, and is still a big hit today! It's one various awards including 'Ten Best Picture Books of The Year' by The New York Times.

You can find The Very Hungry Caterpillar Book within this shelf, along with fun baby toys such as the Teether Rattle or even a large soft toy.